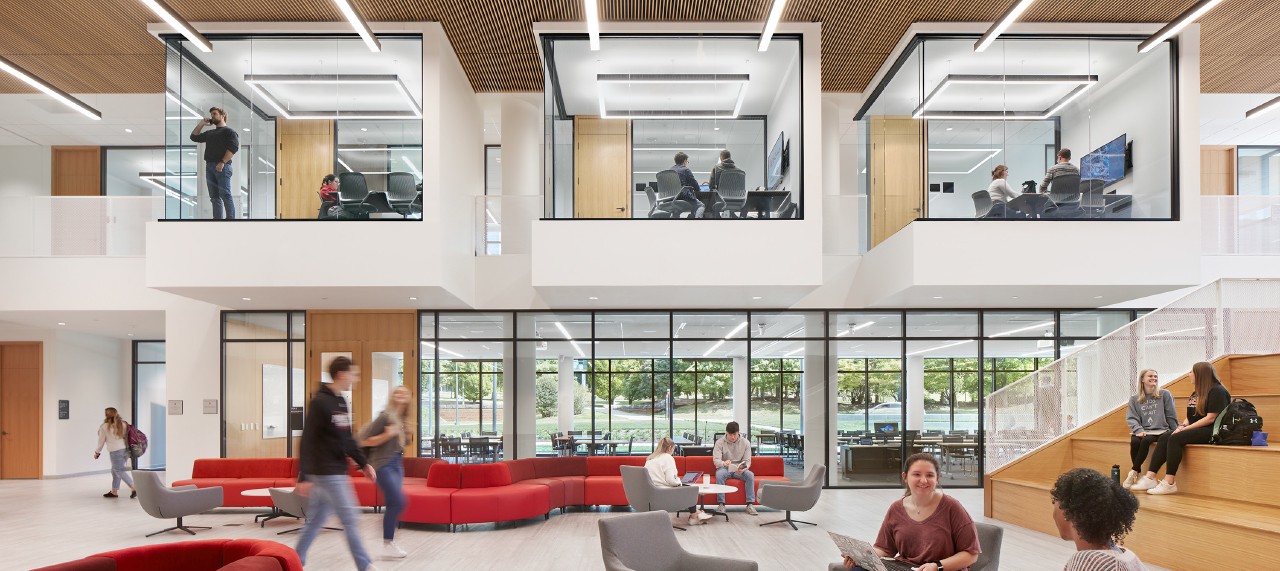 Our School — Since 1833
We are among a small group of elite law schools who can claim their founding in the early 1800's — Harvard, Yale, and UVA to name a few. We've been training lawyers for nearly two centuries. And while we are proud of our past, we are steadfast in looking forward. Providing you a first-rate 21st century legal education that inspires you to pursue justice and advance the role of law in society is what matters most.
The University of Cincinnati College of Law is a rare resource, offering an affordable legal education in an energetic urban environment. We are a small and supportive law school community committed to your professional success. We offer an intimate and distinctive legal education while drawing on the resources of a major research university.
We are a nationally recognized law school in the heart of the Midwest, located in Clifton Heights, a thriving and dynamic neighborhood situated atop one of the many tree-lined hills that overlooks downtown Cincinnati, Ohio.
Our Criminal Law, Corporate Law, Public Interest Law, and Trial Advocacy programs are ranked among the top in the nation. Innovation and impact are infused throughout our curriculum. Every Cincinnati Law student can experience multiple semester-long clinical or externship placements, and often tout the Cincinnati network as central to their heightened experience.
Long-standing partnerships with many of the more than 800+ law firms, Fortune-500 companies, agencies, and state and federal courts that call Cincinnati home provide you our guarantee of experiences beyond the classroom – up to as many as 6 during your second and third years.
The National Jurist and prelaw Magazine have named us among the top 10 public law schools for Public Service, a top 15 law school for delivering exceptional Practical Training, and a seven-time Best Value Law School.
We deliver an innovative curriculum taught by a top-flight faculty enhanced by a large group of adjunct professors who bring their experience and expertise to the classroom. We tap into our loyal alumni base to provide mentorship and counsel as you begin to develop your professional identity as a future attorney.
We offer JD, LLM, Certificate Programs, and three dual-degree programs. Our FlexTime program, a reduced full-time course structure, provides professionals with the flexibility needed as they manage families and careers. And our 3+3 partnerships with local colleges and universities means you could complete your Bachelor's Degree and Juris Doctor in only six years!
Community and Global Partnerships
As a Cincinnati Law student, you will have access to one of the strongest and fastest-growing entrepreneurial ecosystems between coasts. We support engagement with the Cincinnati community – the legal profession, courts, government, business – and benefit from collaborations with those who make, practice, apply, and depend-on, the law.
Our active partnerships extend well beyond the city of Cincinnati. Our office of International Programs and recently developed Center for Global Practice of Law connects students to opportunities that will aid you in the development of competencies required to excel in a 21st century global marketplace. You can work abroad through our Urban Morgan Institute for International Human Rights, experience the law firsthand by participating in the annual Vis International Arbitration Moot competition, and learn the intricacies of international law by choosing our International Law Pathway or our Concentration in International Legal Studies.
Diversity, Equity, & Inclusion
We are deeply proud of our tradition of fostering an intellectually challenging and diverse learning environment. We recognize Equity & Inclusion as a core value, one that is also embraced by the University of Cincinnati. We introduced the nation's first joint JD/MA Women's, Gender and Sexuality Studies degree program in 1995 and continue to lead and innovate with initiatives such as our Jones Center for Race, Gender, and Social Justice.
UC recently earned the prestigious Higher Education Excellence in Diversity (HEED) award from "Insight Into Diversity' magazine, the oldest and largest diversity-focused publication in higher education. 
Read our full statement on diversity.

Our Accolades
Ranked a Top 45 Public Law School - 

U.S. News & World Report

4th Oldest Law School in the U.S. and Ohio's First
One of the Nation's Leading Social Justice Law Schools
2nd in the state for first-time takers (85%) and overall bar passage (82%) on the July 2021 Bar Exam
No. 3 Most Affordable Law School in the nation - U.S. News
An eight-time "Best Value Law School" - the National Jurist
A Top 10 Public Service program - preLaw Magazine 2021

A Top 25 Criminal Law program - preLaw Magazine 2021
A Top 30 Law School with the most Super Lawyers - preLaw Magazine 2021
Ranked a Top School Corporate Law, Public Interest Law, and Trial Advocacy by the National Jurist
8:1 Student-to-faculty ratio

Graduate debt levels nearly $80,000 less than the national law school average
Cincinnati Law's Ohio Innocence Project has helped release 34 individuals who together served more than 650 years in prison for crimes they did not commit.
One of the 25 Most Affordable Places to Live in the U.S. in 2021-2022 -  U.S. News
Cincinnati ranks No. 1 for best places for recent college graduates in 2022 by SmartAsset
The mission of the University of Cincinnati College of Law is to educate and inspire leaders who pursue justice and advance the role of law in society.
We are a community of learners, led by a faculty committed to excellent teaching, scholarship, and service. We strive to create a learning environment that inspires the pursuit of justice, cultivates diverse and innovative ideas about law in society, fosters collaborative relationships, and imparts the knowledge, values, and competencies needed to excel in a changing world.

University of Cincinnati Quick Facts
Location: Cincinnati, Ohio
Number of Buildings: 118 facilities on 476 acres
Majors & Programs: 414 degree programs, 262 minors and certificates
Athletics: NCAA Division I; American Athletic Conference
Mascot: Bearcat 
Colors: Red and Black
Famous Alumni & Faculty: Astronaut Neil Armstrong; President and later Chief Justice William Howard Taft; Eula Bingham, environmental scientist and one-time head of OSHA; Albert Sabin, developer of the oral polio vaccine; and prima ballerina Suzanne Farrell
Students from: 50 states and 114 countries
Living Alumni: over 300,000 with approximately half (more than 140,000 residing in the greater Cincinnati region).
Additional information available on the UC Fact Sheet.