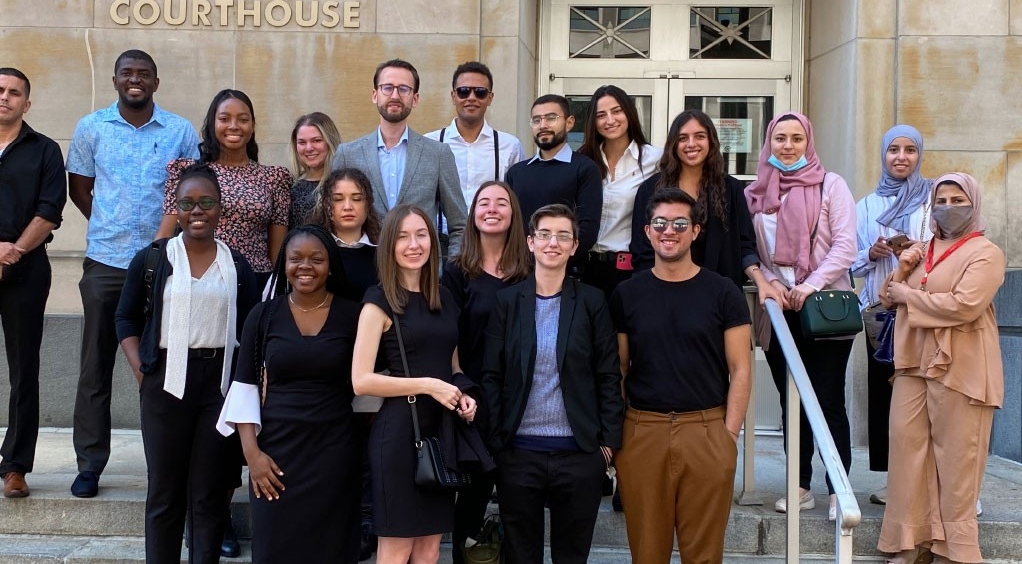 LLM Application for Admission
The Impact of a UC Legal Education
At Cincinnati Law, we believe that greatness lies beyond the classroom. Our LLM students gain real-world experience through our renowned centers, high-impact clinics, guaranteed experiences beyond the classroom, and sought-after LLM Fellowship opportunities. You'll find an environment that is collaborative and an academic curriculum that is rigorous and thought-provoking. Top-tier faculty will serve as your partners in learning with class sizes comparable to that of a small private school, and your classmates will become learning companions and life-long friends. Tap into the greater UC network with more than a quarter of a million alumni around the globe and let the power of the Cincinnati connection lift you to new heights. Apply today and discover how Cincinnati Law will ensure you graduate prepared to unlaunch your unlimited future. #nextliveshere
Join our Family of Global LLM Scholars

LLM Application Requirements
The University of Cincinnati College of Law is pleased to offer a program of study on the US legal system to practicing attorneys and law school graduates who received their legal education outside the United States. The LLM program is a nine month program designed to introduce internationally trained lawyers to the U.S. legal system while also giving each student an opportunity to design a course of study that best advances their professional agenda. Students who complete the program are better able to represent U.S. clients and more prepared for negotiations and litigation with U.S. parties.
The documents listed below must be sent with your LSAC application in order for your application to be considered.
Personal Statement: Please describe why you wish to study law in the U.S., why Cincinnati Law could be a good fit for you, and how you plan to use the knowledge, skills, and degree earned in this program. If you are interested in a scholarship or fellowship in Criminal Law or Human Rights Law, please indicate that here as well. Your essay should be one to two pages long. 
Resume or Curriculum Vitae: Please provide a resume listing and describing your professional, educational, or other related experience. Include the name of each employer, the position you held, and the dates you were employed.
Two Recommendations: Please ask two individuals who are familiar with your academic or legal work to supply a letter telling us why you would be a good candidate for the LLM program. Follow the instructions on the LSAC application to request that the writers submit their letters on your behalf. 
Credential Evaluation: We must receive a course-by-course evaluation of your previous higher education before we can consider your application. You may choose from the following organizations to provide your evaluation: LSAC, ECE, or WES . If you choose WES, please note the following. You will find all the information you need at www.wes.org. Please go to that website to apply for your evaluation. Be sure to choose (1) a course-by-course evaluation and (2) University of Cincinnati College of Law as a recipient of your evaluation. All transcripts from non-US post-secondary educational institutions must be sent directly to WES by the issuing institution. If your transcripts and diplomas are in languages other than English you must supply translations. It is critical that you read and follow the WES "Required Documents" information specific to your country of study to ensure that your evaluation is completed as quickly as possible. Once all the required documentation is received by WES, the evaluation will be completed in 7 business days and will be sent directly to UC College of Law. You will receive a personal copy as well.
 TOEFL, IELTS, or CEFR Score: If your native language is not English, you must supply evidence of your English proficiency. Our TOEFL institutional code is 1833. Preference will be given to applicants with a 100 internet-based TOEFL score or equivalent. Applicants with TOEFL scores of 85 and above will also be considered. Applicants can also gain admission with an IELTS 7.0, ELS English Language Center Level 112 completion certificate, or CEFR Level C1. We are also accepting DuoLingo scores of 110 and above during the global pandemic. Waiver requests for applicants who meet one of the conditions at the bottom of this page can be directed to uclawllm@uc.edu. Please note that waivers in these categories are not automatic. 
If you need financial assistance with the application fees, please contact us at uclawllm@uc.edu.
Conditional admission is available for otherwise-qualified students who need additional English language instruction. English training is available on the UC campus at ELS-Cincinnati Language Center.
Documents being submitted by mail should be sent to the following address:
Nora Burke Wagner
University of Cincinnati College of Law
LLM PROGRAM
PO Box 210040
Cincinnati, OH 45221-0040 USA
Ranked a top LLM program for Value and Law School Experience by the International Jurist, 2021
RANKINGS & POINTS OF PRIDE
Ranked a Top 45 Public Law School - U.S. News & World Report
4th Oldest Law School in the U.S. and Ohio's First
One of the Nation's Leading Social Justice Law Schools
2nd in the state for first-time takers (85%) and overall bar passage (82%) on the July 2021 Bar Exam
No. 3 Most Affordable Law School in the nation - U.S. News
An eight-time "Best Value Law School" - the National Jurist
A Top 10 Public Service program - preLaw Magazine 2021

A Top 25 Criminal Law program - preLaw Magazine 2021
A Top 30 Law School with the most Super Lawyers - preLaw Magazine 2021
Ranked a Top School Corporate Law, Public Interest Law, and Trial Advocacy by the National Jurist
8:1 Student-to-faculty ratio

Graduate debt levels nearly $80,000 less than the national law school average
Cincinnati Law's Ohio Innocence Project has helped release 34 individuals who together served more than 650 years in prison for crimes they did not commit.
One of the 25 Most Affordable Places to Live in the U.S. in 2021-2022 -  U.S. News
Cincinnati ranks No. 1 for best places for recent college graduates in 2022 by SmartAsset
Upon receiving notice of acceptance, the applicant is required to make an acceptance deposit of $250 by the date listed in the letter of acceptance. Payment of the deposit when due assures the applicant of a place in the class and is considered as evidence of good faith that he or she will register. 
Caution Regarding Bar Exam Eligibility
If you are planning to take a bar exam in the U.S., please contact the bar authority in the relevant state to determine which credential evaluation company they will accept. The LLM program does not guarantee your eligibility for any bar exams.
Completion of the UC Law LLM program does NOT guarantee your eligibility to practice law in the U.S.
Applicants who intend to practice law in the U.S. should be aware that each state sets its own requirements for eligibility, and admission to the bar in all states involves character, fitness, and other qualifications. Some states have specific educational and documentation requirements that must be met by applicants who completed some of their post-secondary education outside of the U.S. Applicants are strongly encouraged to research all of the bar exam eligibility requirements in the state(s) in which they intend to practice by consulting the state bar authority.
The University of Cincinnati is committed to providing a safe and secure environment for all members of the UC community. Our Annual Security and Fire Safety Report is available on the Department of Public Safety's website at www.uc.edu/publicsafety. To receive a hard copy of the report, call 513-556-4900.