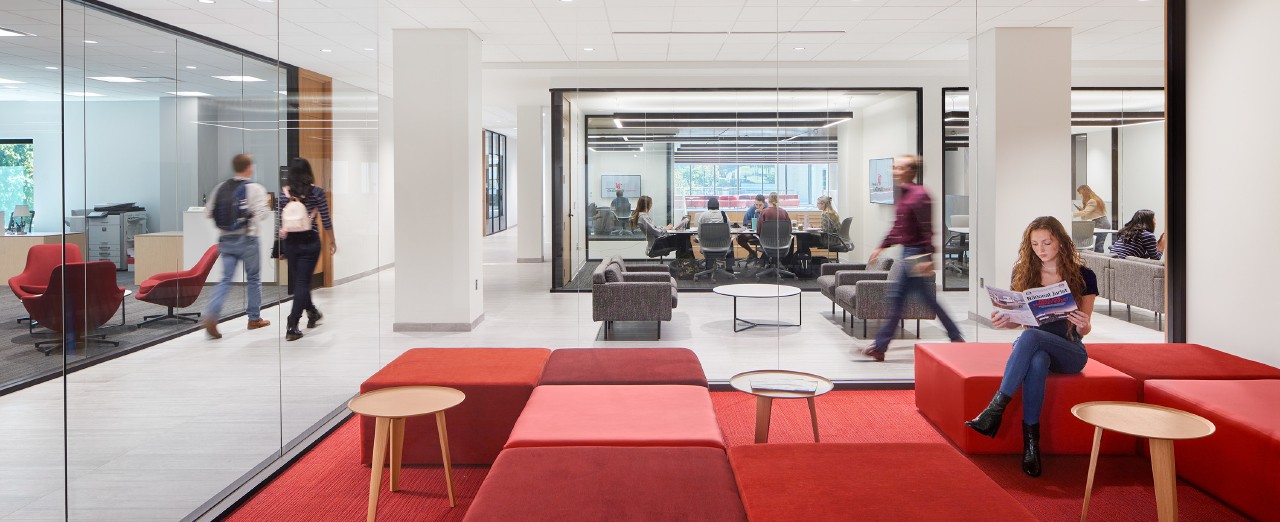 The University of Cincinnati College of Law has provided students a premier law school experience since 1833. Our students are thoughtfully trained and mentored to be innovative leaders guided by intention and driven by a passion to elevate justice and the rule of law in society.
As the inventors of cooperative education in 1906, it only makes sense that experience-based learning is part of our DNA today. Whether you are applying for a JD, an LLM, Joint Degree, or one of our certificate programs, Cincinnati Law willl provide a life-changing experience that ensures you are prepared to lead and ready to launch your unlimited future.
Applying to law school can be a stressful process. That's why our dedicated admissions team is here to help. Whether they're walking you through our admissions requirements or assisting with financial aid questions, you'll have someone with you every step of the way.
Cincinnati Law placed 2nd in the state for first-time taker and overall bar passage.
-July 2021 Bar Exam
Why Choose Cincinnati Law?
Not all law schools are created equal. Some law schools offer an affordable legal education. Others focus on the quality and breadth of courses, faculty expertise, and meaningful student experiences. At Cincinnati Law, we are proud to deliver on all of these qualities and more. That is why Cincinnati Law students are uniquely trained through a combination of carefully curated courses and experiences beyond the classroom. These guaranteed experiences ensure you graduate prepared to think like a lawyer and practice like a professional.

Through financial aid, we're able to offer this one-of-a-kind education without the high cost typically associated with law school. Our students graduate with debt levels nearly $80,000 less than the national average for public and private law schools. U.S. News ranks Cincinnati Law No. 3 in the nation for affordability and we are a five-time "Best Value Law School" according to the National Jurist. Affordable tuition, low cost-of-living, and competitive scholarships provide a strong financial future and long-term success to our law students.
As a student at Cincinnati Law, you benefit from a number of factors that make our programs world-class. Key among them is our ability to guarantee experiences beyond the classroom for every student. Whether that's through our comprehensive externship placements, legal clinics, or one-of-a-kind fellowships, our students graduate with a robust résumé of experiences.
We are able to provide meaningful opportunities for every student because as Cincinnati's sole law school, we do not have to complete with another law schools programming. Greater Cincinnati is home to more than 800 law firms; headquarters to more Fortune 500 companies per capita than New York City, Chicago or Los Angeles; and houses both U.S. Court of Appeals for 6th Circuit and U.S. District Court for Southern District of Ohio.
Consistently ranked on many top-10 and best-of lists for living and visiting, the Cincinnati area boasts a vibrant, architecturally, and historically resonant backdrop for arts, sports, cuisine, music, and cultural festivals. Resplendent in its beautiful hills, rivers, and nationally renowned city parks — with one of the oldest zoos in the country just blocks from our campus — it's amazing that Cincinnati also ranks as one of "America's Best Bargain Cities." As you take advantage of being in the only law school in a great networking city of 800 law firms, join us in living and studying in our diverse and exciting river city!
 Art & Culture: Aronoff Center for the Arts, Cincinnati Art Museum, Cincinnati Museum Center, Cincinnati Playhouse, Cincinnati Observatory, Cincinnati Symphony Orchestra, Krohn Conservatory, National Underground Railroad Freedom Center, Taft Museum of Art, Know Theater of Cincinnati
Festivals: Art in the Park, BLINK, Bunbury Music Festival, Cincin-Cinco, Festival of Lights, Flying Pig Marathon, Juneteenth, Oktoberfest, Opening Day Parade, Paddlefest, Riverfest, Soul Fest, Taste of Cincinnati
Professional Sports: Bengals (football), Cyclones (ice hockey), Reds (baseball), Revolution (ultimate disc), Rollergirls (roller derby), FC Cincinnati (soccer)
Zamira Saidi's Fearless Pursuit of Justice
Zamira Saidi's pursuit of justice fuels her curiosity and desire to learn more. Growing up in Afghanistan and moving to the U.K. before heading to Cincinnati, she's just getting started.
Being a student at Cincinnati Law was like being a member of a big, supportive family. The faculty and administration were always at the ready with listening ears when I was stressed, worried, or needed advice throughout my law school journey. UC Law felt like home from day one, and I can attribute that to them. I am so proud to be a Bearcat and to be part of such an incredible alumni base.
Kennedy Womack Class of 2020
RANKINGS & POINTS OF PRIDE
Ranked a Top 45 Public Law School - U.S. News & World Report
4th Oldest Law School in the U.S. and Ohio's First
One of the Nation's Leading Social Justice Law Schools
2nd in the state for first-time takers (85%) and overall bar passage (82%) on the July 2021 Bar Exam
No. 3 Most Affordable Law School in the nation - U.S. News
An eight-time "Best Value Law School" - the National Jurist
A Top 10 Public Service program - preLaw Magazine 2021

A Top 25 Criminal Law program - preLaw Magazine 2021
A Top 30 Law School with the most Super Lawyers - preLaw Magazine 2021
Ranked a Top School Corporate Law, Public Interest Law, and Trial Advocacy by the National Jurist
8:1 Student-to-faculty ratio

Graduate debt levels nearly $80,000 less than the national law school average
Cincinnati Law's Ohio Innocence Project has helped release 34 individuals who together served more than 650 years in prison for crimes they did not commit.
One of the 25 Most Affordable Places to Live in the U.S. in 2021-2022 -  U.S. News
Cincinnati ranks No. 1 for best places for recent college graduates in 2022 by SmartAsset
JD Admissions Contact Information
Office Hours

 Office Address
Mailing Address

9:00 AM - 5:00 PM


Monday - Friday
phone: 513-556-0078
fax: 513-556-2391
email: admissions@law.uc.edu

University of Cincinnati
College of Law
2925 Campus Green Dr.
Cincinnati, Ohio 45221

PO Box 210040

Cincinnati, OH 45221-0040