Law School Application Advice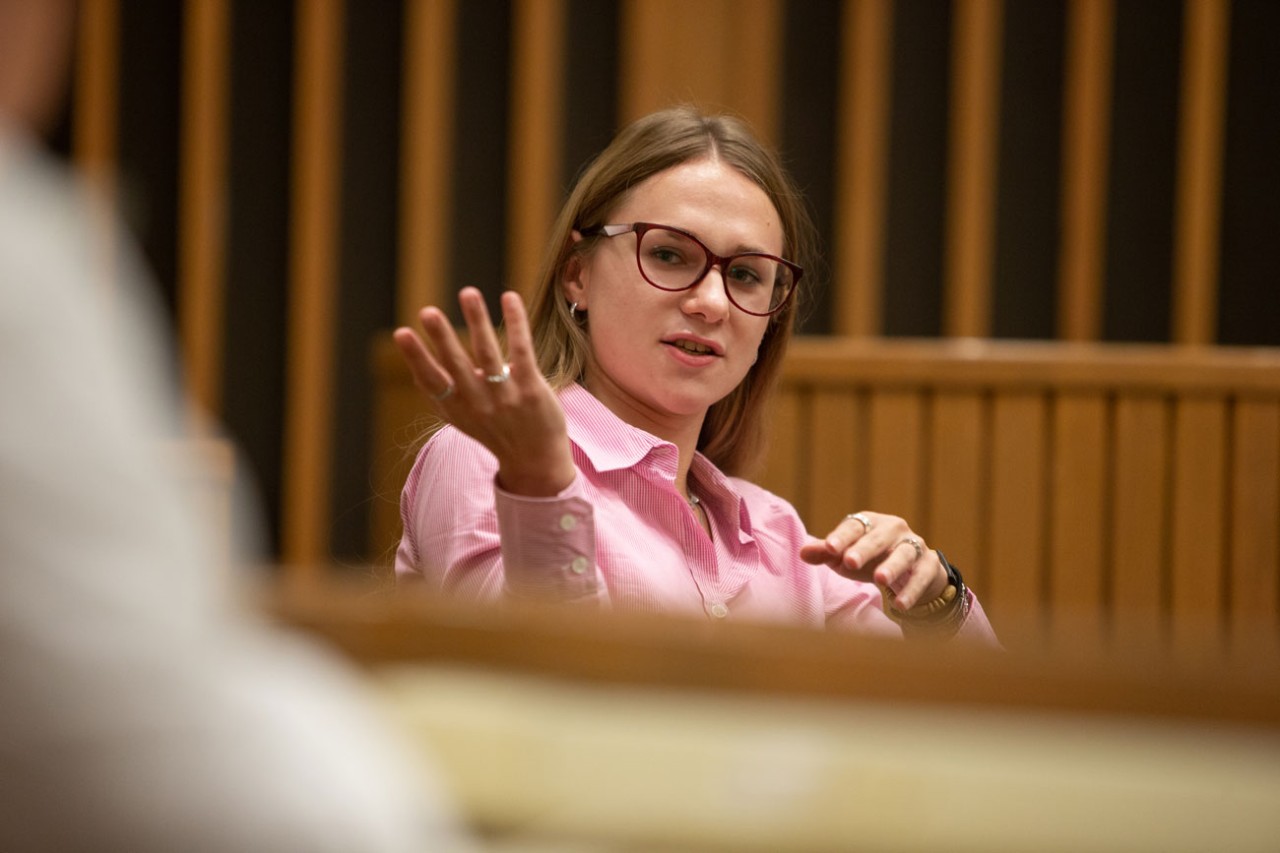 We get a lot of questions about how to create a strong law school application. With nearly three decades of combined experience reviewing law school applications, we thought we'd put together some advice on applying to law school. 
When should I apply to law school?
Our best advice is to apply early. Cincinnati Law works on a rolling admissions process, meaning applications are prioritized and reviewed as they are submitted. Applying early will allow your application to be viewed more competitively for both admission and scholarship. For us, applying early is before December 1. You can find our admissions timeline on the JD Admissions page.

How do I write a strong personal statement for law school?
The personal statement is your chance to tell the admissions committee about why you want to go to law school, and what you as an individual can add to the incoming class. It's also a chance to show us you're a competent writer, so be sure to proofread. A well written personal statement can go a long way, whereas a poorly written statement can hurt your chances of admission.
In roughly two pages, we want you to tell us:
Why you want to go to law school
Why you want to come to Cincinnati Law
Why we should admit you (i.e. life experiences that have prepared you to be a strong law student)
What should I include in my law school résumé and how long should it be?
There is no required or preferred length of a résumé. The length will depend on the extent of your background and experiences. The biggest thing to note is that a résumé for law school should not necessarily look like a typical job resume. Be sure to prioritize the experiences you feel are directly related to—and have best prepared you for—success in law school.
What score do I need to get on the LSAT, and how do I prepare for it?
LSAT scores range from 120 to 180. There is no minimum LSAT score to be considered at UC Law, nor is there a high score that guarantees admission. Looking at the range between the 25th and 75th percentile for any given year (for the most recent class, it's 153-159) can give you an idea of what a competitive score would be. Applicants should keep in mind that the LSAT score is only one component of an admissions decision, and that GPA, the personal statement, and letters of recommendations are also important.
As to preparation, many excellent books and courses are available to help you study for the LSAT. UC offers an in-person course that meets on weekends, for more information see the Communiversity website. The Khan Academy now offers free-to-access materials in collaboration with LSAC. Your local public library can also be a great resource. Taking timed practice tests under simulated conditions is essential. Even if you only take one section at a time, time yourself for that section.  Focus on the types of questions you struggle with, and repeat. 
Should I retake the LSAT if I don't get the score I want?
You can, but it's best to make sure you prepare well and do your best on the first try. According to LSAC, large jumps in score are rare, and usually happen when the test taker didn't prepare the first time or had something really go wrong on test day. You are allowed to retake the test up to three times in a year, five times in five years, or seven times total. Your highest score will be considered by the committee. 
Do you have any advice for other components of my application?
We sure do. (If you need a refresher, a complete list of application requirements is on our Apply page.)
Qualifications for Admission to the Bar: full disclosure is best when it comes to character and fitness, but keep it to the facts!
Sample LSAT Essay: The writing sample is not really something you can prepare for, but it should be taken seriously. It is not scored, but the members of the admissions committee will review it as they are considering your application, as an example of your written communication skills. 
Letters of recommendation: Recommendations from professors are preferred, but if you've been out of school awhile or have had exceptional work experiences, letters from supervisors are perfectly acceptable. Regardless, be sure to take time to sit down or hold a phone call with your recommender, walking them through your résumé discussing your experiences, why they have prepared you for law school, why you're interested in pursuing a JD, and the impact you hope to make. This will help the recommender write a more personal and substantial letter of recommendation.
And most importantly: Apply early!

Why should I apply to UC's law school?
We're glad you asked! UC Law is uniquely situated as one of the smallest urban law schools in the nation. What's more, we are THE law school in Cincinnati, giving our students access to more than 800 law firms, eight Fortune 500 companies, various state and federal courts including the Sixth Circuit Court of Appeals, and a diversity of industries.
Being the only law school in Cincinnati lets us tap into the city's incredible legal network, allowing us to guarantee externships for every student, offer unique clinical programs, and ensure that you spend significant time experiencing the law beyond the classroom. 
At around 375 total students, UC Law has a very tight-knit feel. You can join one of our student organizations, which host numerous events and programs—from potlucks to lectures and everything in between. Not to mention, our small size means you'll get personalized attention from our faculty, helping to ensure your success in law school and on the job market.
Speaking of jobs, as a student at Cincinnati Law, you'll be surrounded by a devoted and helpful alumni network—both locally in Cincinnati and around the world. You can visit our Careers page to learn more about what kinds of jobs our alumni take, what networking opportunities UC Law and the Center for Professional Development facilitate for students, how we help you find a job, and more.
Still not convinced? We're happy to keep trying, just request information.
How do I pay for law school?
Affording a legal education shouldn't have to be difficult. All admitted students at UC Law are automatically considered for scholarships. Our awards are primarily merit-based, relying most heavily on LSAT, GPA, and your educational background.
For the incoming Class of 2020, roughly 95% of students received scholarship offers. The average award was roughly $15,000. We also guarantee a student's scholarship for all three years of law school, provided that you remain in good academic standing (a.k.a. maintaining a 2.0 GPA or above.)
It's also worth mentioning that our alumni graduate with debt levels nearly $80,000 less than the national law school average. And, according to a 2019 Bureau of Economic Analysis report, Cincinnati has the lowest cost of living of any major metro in the U.S. Learn more about our tuition and financial aid.
Should I visit law schools that I'm applying to? How do I schedule my visit?
Absolutely! Visiting a law school is the best way to determine if it's a good fit and a viable option for your legal studies. You can schedule your visit to Cincinnati Law online. 
During your visit, you'll typically meet with an admissions director, participate in a first-year class, and tour the law school with a student ambassador. You're welcome to visit alone or with guests.
I've applied. What's next?
After you apply, it typically takes between 2-4 weeks to receive a decision. If you're admitted, we try to provide you with your acceptance packet and scholarship offer (if awarded) at the same time. Two Admitted Student Open Houses are held in the Spring and you are highly encouraged to attend. We'd love to see you there.