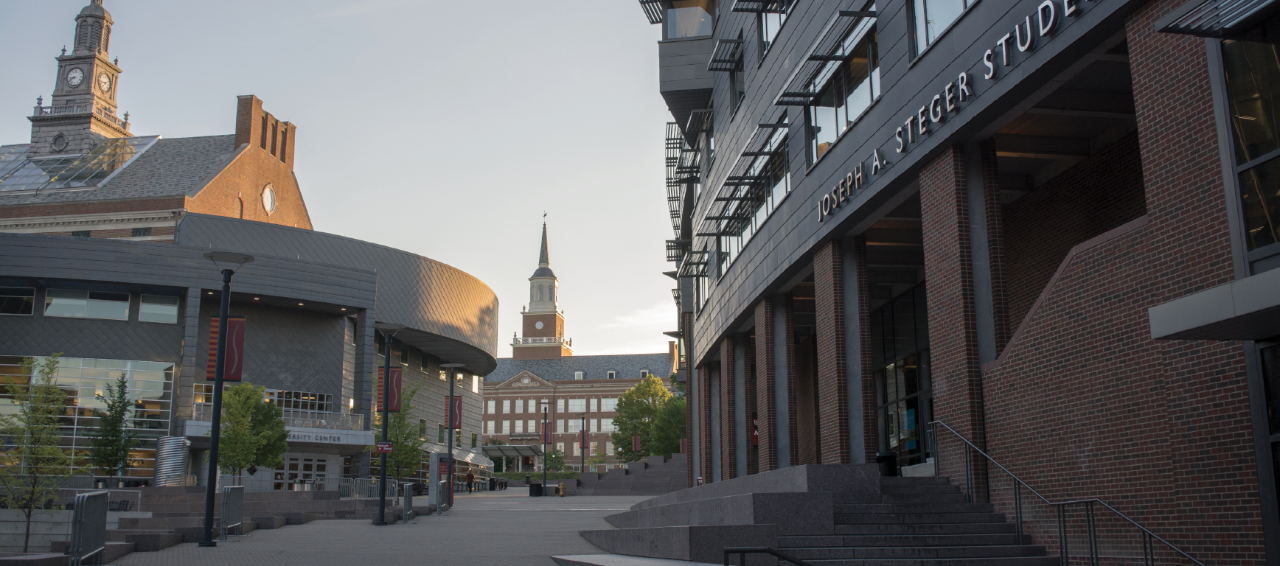 Cincinnati Law prides itself on keeping tuition rates low and scholarship levels competitive.
Our graduates leave with debt levels nearly $50,000 less than the national law school average.
Full-time Tuition and Fees (JD and LLM)
2017-2018 In-State Tuition: $24,010
2017-2018 Non-Resident Tuition: $29,010
2017-2018 Kentucky Metro Rate: $24,610
Learn more about tuition rates for married non-residents, veterans and applicants from states with tuition reciprocity.
The College of Law offers more than 3 million scholarship dollars each year. For the last seven years, 100% of Cincinnati Law students have retained their full scholarship for all three class years. To learn more about scholarships, visit our Scholarships page.

To  compare our data to other law schools, you can review the required ABA 509 report.
Housing and Living Expenses
Cincinnati's low cost of living attracts a diverse student and professional population.
Estimated Living Expenses

| | |
| --- | --- |
| Source of Cost | Cost |
| Room & Board | $11,118 |
| Books | $1,200 |
| Transportation | $616 |
| Miscellaneous | $4,834 |
| TOTAL | $17,768 |
Cincinnati Law students pay for their legal education with the support of millions of dollars of scholarships, fellowships and work study options as well as traditional loans.
Affording an Excellent Legal Education Doesn't Have to be Hard
Earning a Juris Doctor or LLM degree at Cincinnati Law is both a dream fulfilled and an investment made in your future success. At Cincinnati Law, we understand that for many gaining access to financial aid is a critical step towards this end. So, we assist students through a combination of funding sources including scholarship opportunities, fellowships, work study and loans.
The Value of a Cincinnati Law Degree
While some law schools may seem very much alike, we like to cite evidence of what we believe culminates in a unique value proposition found at Cincinnati Law. This includes factors like tuition rates and student loan indebtedness below national averages, two-thirds of the Cincinnati Law school student body receiving renewable scholarship assistance of approximately $3 million, and excellent bar passage rates. In addition, metropolitan Cincinnati is one of the most affordable cities to live in the nation, while also boasting 800+ law firms, numerous Fortune 500 companies, and local, state, and federal courts.
The value stretches even farther when considering the educational benefits of our low 8 to 1 student-to-faculty ratio, first-year "cohort" sections of fewer than 25 students each, and one-on-one career planning advisement with attorneys in our Center for Professional Development.
If you have questions after reviewing the details to the left, do not hesitate to contact the Cincinnati Law Office of Admissions & Financial Aid at admissions@law.uc.edu or 513.556.0078.
5-Time Best Value Law School
Cincinnati Law has been ranked on the National Jurist's prestigous "Best Value Law School" rankings five times. This ranking identifies schools where graduates have excellent chances of passing the bar exam and finding meaningful employment - without taking on excessive debt.