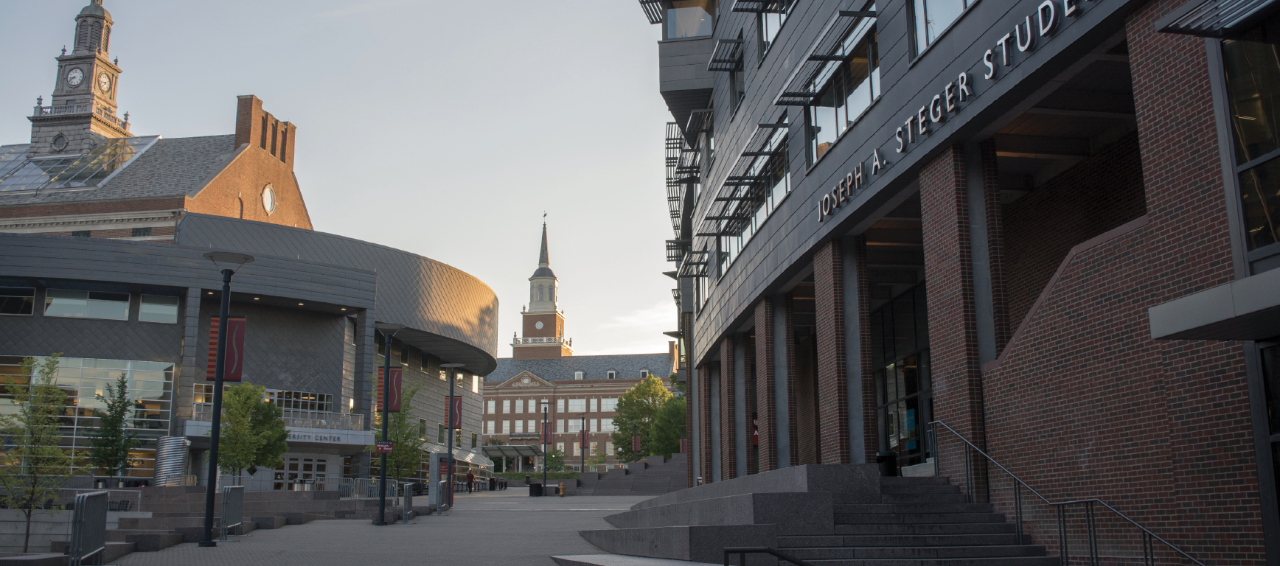 Let's face it. Law School is one of the most important investments you'll ever make. And the University of Cincinnati College of Law offers one of the most valuable ROI's in higher ed. How? Through an unparalleled commitment to experience-based learning and career preparation. It's part of our DNA. That's why we guarantee every student meaningful field placements that will help you think like a lawyer and practice like a professional.
The College of Law provides low comparative tuition rates and competitive scholarship offers. In addition to receiving a world-class legal education, UC students are able to take advantage of fellowships and work-study options to help lower the price of law school. Opportunities such as these are why our graduates leave with debt levels nearly $80,000 less than the national average for public and private law schools.

Earning a JD or LLM leads to life-changing opportunities, which is why we believe in making our programs financially accessible. Through various forms of financial aid, we assist students in fulfilling goals while setting them up for success. The value of a UC education stretches even farther when considering the benefits of our 8-to-1 student-to-faculty ratio, first-year "cohorts" of fewer than 25 students each, and one-on-one career planning advisement with attorneys in our Center for Professional Development.

Cincinnati Law is proud to boast one of the lowest debt-upon-graduation rates in the nation. For the Class of 2021, the average debt at graduation was $63,608. This is a stark difference from the national average for public and private law schools, which recently  stood at nearly $145,500 according to the National Center for Education Statistics. Not only have our students graduated with less debt, but our tuition has also been frozen for the last seven years.
2022-23 Tuition Costs

| Residency | Cost |
| --- | --- |
| Ohio Resident Tuition | $24,010 |
| Non-Resident & LLM Tuition | $29,010 |
| Kentucky Metro Rate | $24,610 |
| Indiana Reciprocity | $24,010 |
UC offers a unique tuition discount available to Cincinnati Law students who are either from the state of Kentucky, or who choose to move to northern Kentucky (15 min. drive across the river) to live during law school. This rate is available through the University's Kentucky Metropolitan Rate (KMR) - no previous domicile in Kentucky is required.

Under the KMR, students who reside in the state of Kentucky during law school pay the Ohio in-state tuition rate plus a $600 annual surcharge. Students can qualify for this immediately for their first semester, provided they gain a Kentucky drivers license, obtain a place to live (own or rent), and submit an application at prior to the start of classes in August. LLM applicants not eligible.
Financial Aid and Scholarships
The College of Law offers more than 3 million scholarship dollars each year. These range from a few thousand dollars to the full cost of tuition. For the last eleven years, 100% of Cincinnati Law students have retained their full scholarship for all three years. By offering scholarships to students, we're able to provide a high-quality law school education to those who would otherwise not be able to afford it.
To learn more about scholarships, visit our Scholarships page. Here you can find scholarships associated with the College of Law along with dozens of external opportunities for which you can apply.

TAKE NOTE
Our graduates leave with debt levels nearly $80,000 less than the national average for public and private law schools
100% of scholarships renewed for the last eleven years

Average Scholarship Award: $16,000



95% of JD students receive scholarship
The University of Cincinnati and the College of Law is committed to giving back to those service women and men who have sacrificed so much for our freedom. While we have myriad of services for veterans available on campus, we want to bring special attention to the Yellow Ribbon Program.
The Yellow Ribbon Program allows UC to partner with the VA to contribute funds to our veterans' unmet tuition and fee charges when their tuition and fees charges exceed the amount payable under Chapter 33. UC can contribute up to 50 percent of veterans' unmet costs; the Department of Veterans Affairs will match the amount. You can learn more details about the Yellow Ribbon Program on our Military and Veterans webpage.
For students wishing to utilize the G.I. Bill, we encourage you to check out the U.S. Department of Veterans Affairs GI Bill Comparion Tool. Simply select "schools" under Type of Institution and type University of Cincinnati (main campus).
Learn more about Cincinnati Law Tuition and Financial Aid!
The University of Cincinnati's College of Law provides a competitive tuition rate, scholarships, work-study, and other financial aid options for both JD and LLM students. Located in one of the most affordable cities in the country, UC Law opens a world of opportunities to those wanting to pursue careers as lawyers. Interested in learning more? Request information today!