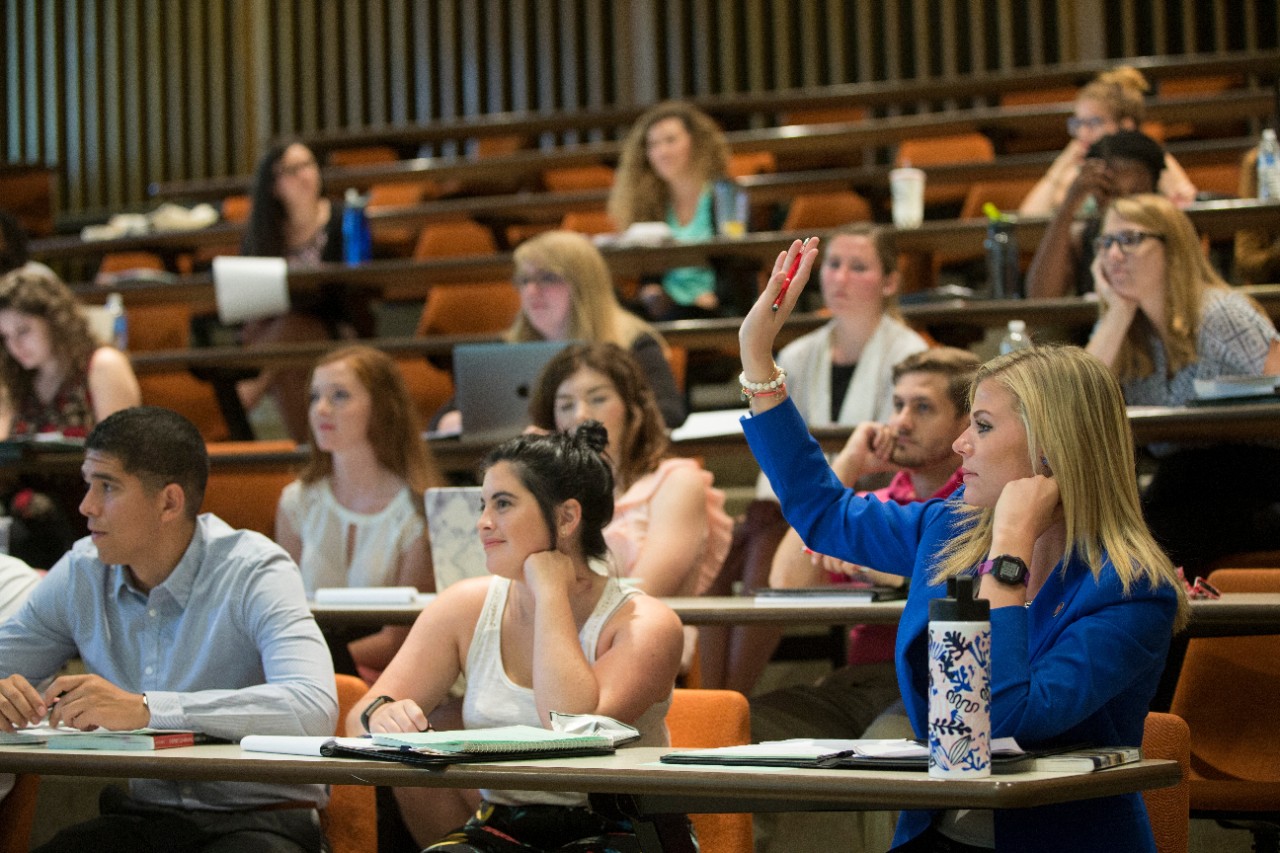 The curriculum at Cincinnati Law will help you build the solid foundation of legal knowledge needed to excel in the practice of law—both today and in the future. 
View our course offerings
In your first year, you will build a foundation of legal knowledge as you learn the legal concepts essential to an understanding of our legal system. Working closely with your professors, you will develop the skills of reading and analyzing cases including how and why the courts develop common law through the use of precedent and how to interpret and apply statutes. Professors lead students in classroom discussions that help develop the skills of legal analysis and reasoning. These skills are essential not only to the lawyer but also to you as a law student.
First-year students also develop oral and written skills crucial to academic and professional success. In the fall semester, students learn legal research and writing skills in small classes that provide frequent opportunities to practice and get personal feedback from their professors. In the spring semester, classes focus on advocating on behalf of clients in the courtroom. Students learn to write legal briefs and make arguments to a judge.
Each first year student has at least two courses in the first semester in a small section of approximately 20 students. These learning communities provide students the opportunity to be mentored by their small-section professors and form study groups that provide opportunities for students to help each other as they adapt to the study of law. In fact, many students form life-long friendships in their small sections.
Required First Year Courses
Civil Procedure I: 3 hrs
Contracts: 4 hrs
Constitutional Law I: 3 hrs
Lawyering I: Legal Research and Writing: 3 hrs
Torts: 4 hrs
Total: 17 Hours
Civil Procedure II: 3 hrs
Constitutional Law II: 3 hrs
Criminal Law: 3 hrs
Lawyering II: Advocacy: 3 hrs
Property: 4 hrs
Total: 16 Hours
After the first year, students take required classes that help them learn about interviewing and counseling clients, develop an ethical sensitivity, and hone their writing skills. Students also select from a rich array of elective courses in areas of study related to their professional interests. By engaging in these studies, students develop the breadth of knowledge to organize and classify their clients' legal problems and the depth of knowledge to help their clients achieve their objectives.
Based on their interests and passions, students can prepare to practice in many areas of law including business, criminal, international, public interest and other areas of the law. The curriculum is divided into Professional Pathways to help students select their classes.

Your legal education culminates in the bar examination. Legal practice requires admission to the bar of the jurisdiction in which you intend to practice.
Below is a list of upper-level elective courses that cover subject matter tested on the Uniform Bar Exam.

Business Associations
Conflict of Laws
Criminal Procedure
Evidence
Family Law
Real Estate Transactions
Sales
Secured Transactions
Wills and Estates
Students have many opportunities to learn the work of lawyers by working in their offices, courtrooms, businesses, and governmental and nonprofit organizations. These real-world experiences help students build professional skills and develop a professional identity. Through the Legal and Judicial Externship programs, students learn from both a classroom teacher and a field-placement supervisor. Through our many Clinics, students represent clients in various settings as they face criminal charges, form businesses, appeal trial court decisions, and recover from domestic violence, among others. With Cincinnati's 10 Fortune 500 companies, 800 law firms, and the Sixth Circuit Court of Appeals, the opportunities for experiential learning and post-graduate employment are always close by.

Students also hone their skills through participating in Journals and competition teams. With five Journals, students have a significant opportunity to develop their writing and editing skills while also acting as leaders of complex and influential organizations. Through the Moot Court and Trial Practice Competition Teams, students can practice their litigation skills while representing UC in intercollegiate competitions. Other learning opportunities in the upper level come from our Centers and Institutes, our Student Organizations, Volunteering, and Fellowships.
Students receive expert guidance from our Center for Professional Development (CPD) as they build their professional identities. The CPD helps students explore and develop their interests through programs that help students find an attorney mentor, meet attorneys practicing in many areas of the law, visit offices where attorneys practice, and explore alternative careers. Through personal advising sessions each year of law school with a CPD advisor, students create a personal professional plan aimed at helping them identify and achieve their professional goals.

Students in the LLM program complete at least twenty-four credits hours in order to earn the LLM degree. This generally occurs within one academic year. Two courses are designed specifically for LLM students and are required to complete the program:    

The U.S. Legal System. In this three-credit course, students gain a more advanced understanding of the critical features of the U.S. legal tradition, the functional components and participants in our legal system, and key legal concepts, including legal ethics and professional responsibility.
Legal Research & Writing for LLM Students. This three-credit course is similar to our traditional legal research & writing course, designed, however, to meet the needs of non-native English speakers. It is designed to help students develop the written communication skills, research skills, and persuasion strategies needed in both law school and professional practice as a lawyer.    

Additional courses are selected by individual students working in consultation with the Assistant Dean and faculty. By choosing courses from among the range of those offered to all law students, LLM students are able to design a course of study that best advances their own professional agendas.
Students may select courses in areas of study, called professional pathways, such as Business and Entrepreneurship; Criminal; International; Innovation, Technology and Intellectual Property; Science, Health, and Environment; Public Interest; Litigation and Alternative Dispute Resolution; General and Small Practice. Students may also choose to complete our Business Law Concentration or Concentration in International Legal Studies.    
Classroom instruction is integrated with practice observations at courtrooms, government agencies, law firms, and corporate offices. During these observations, participants interact with judges, attorneys, general counsel, and business executives, who convey critical insights about practice in the U.S., including:
U.S. business customs
Liaising effectively with counsel
Navigating the U.S. judicial system
The College of Law will also provide forums for students to discuss their legal cultures, as well as to introduce their law firms or institutions to area attorneys and business executives. In this way, students, local attorneys, and executives have many opportunities to network and form lasting professional contacts.