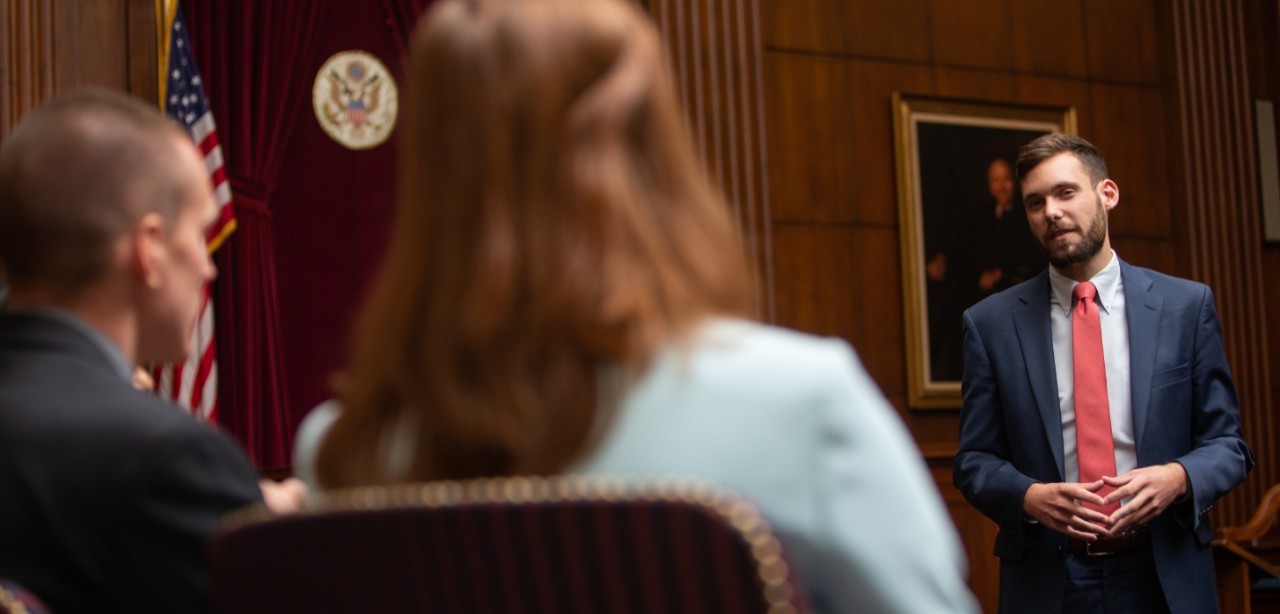 This is just the beginning.
As a leading justice-centered law school, Cincinnati Law equips and empowers its students to shape the[ir] future, guided by intention and driven by a passion to elevate justice. Tapping into the expertise of our renowned faculty, we train students to actively and effectively serve their communities to ensure equity, access, and justice for all.
Our JD program features nine areas of study, guaranteed externship placements, legal clinics, and unparalleled networking within the Cincinnati legal community. Our status as the Cincinnati's sole law school means our students have access to long-standing partnerships with local firms, fortune-500 companies, state and federal courts, and community organizations. Our small size, urban location, and affordability is unmatched and means our students graduate with less debt and a strong financial future.
With a JD from Cincinnati Law, you'll be prepared for next and ready to launch your unlimited future as a litigator, defender, negotiator, advocate, counselor, or decision-maker. You will join an illustrious network of alumni with successful careers from business and government, to management, consulting, media, politics, and education. Submit your application today and join the next generation of lawyers, leaders, and social justice champions. #yournextstartsnow
JD Admissions Timeline

| Date | Deadline | Date | Deadline |
| --- | --- | --- | --- |
| Sept. 1 | Application Opens | Mar. 15 | Recommended App. Deadline ($35) |
| Dec. 1 | Spring Transfer App. Deadline | July 15 | Fall Transfer App. Deadline |
| Feb. 1 | First Choice App. Deadline (Free)  | July 15 |  Final App. Deadline ($35) |
"The people here care about you. That was the impression I got from the person at the front desk the first time I entered the law school, from Dean Williams, and from the students I spoke with during my visit. And it has been that way ever since.
Asa Bell ECDC Clinic
Competition for seats in our incoming class is competitive but not unyielding. We are looking for students who have demonstrated ability, drive, and passion and can meet the rigors and intellectual challenges of our program.
The review process is holistic in nature, and each application is carefully reviewed on the basis of several factors, including difficulty of undergraduate courses, profile of LSAT and UGPA, prior history of leadership, service, and/or employment, a well-written personal statement, and strong letters of recommendation.
We have a rolling admissions policy, meaning we notify you as decisions are made. We offer a full-time program but are able to accommodate you through our FlexTime Program should you need more flexibility in your class and work schedule.
When applying to UC Law, we require the following items:
A Completed Regular Decision Application for Admission
Application Fee
Law School Admission Test (LSAT) Score(s)
Two Recommendations Through the LSAC Letter of Recommendation Service
The Credential Assembly Service Report & Receipt of a Bachelor's Degree
Personal Statement
Qualifications for Admission to the Bar
Résumé
Statement on Applicants with International Degrees
Prior Law School Information (if applicable)
This list, as well as more detailed information for each item, can be found on the "Requirements and Policies" page. View the "Admissions Timetable" below for the applications, deposit, transcript, and residency application deadlines, as well as open house dates.
The financial aid aspect of law school can be daunting for many. That's why all students who are admitted to the College of Law are automatically considered for scholarships. Simply complete the scholarship section of the admission application. For more information on this topic, visit our tuition and aid page.
Apply to UC Law's JD program today!
Cincinnati Law is a destination for the determined, but don't just take our word for it. Apply today and join our collaborative community of diverse individuals. Discover how Cincinnati Law will ensure you graduate prepared to lead and ready for the next step in your career.
Our three joint-degree programs allow students to complete their JDs while earning a Master's Degree — in just 4 years. Not only can you shave a year of time and tuition off of your educational career, you can immerse yourself in complementary worlds of learning while expanding your post-graduation marketability.
Admissions Timeline for Fall 2024 Entry

| | |
| --- | --- |
| Date | Event |
| Friday, September 1 | Application Opens |
| Friday, November 17  | Fall Open House |
| Friday, December 1 | Spring Transfer Student Application Deadline |
| Thursday, February 1 | First Choice Application Deadline |
| Saturday, March 9 | Accepted Students Day  |
| Wednesday, March 15 | Recommended Application Deadline  |
| Saturday, April 1 | First-Choice Seat Deposit Deadline |
| Saturday, April 13 | Accepted Student Day  |
| Monday, April 15 | 1st Enrollment Seat Deposit Deadline |
| Saturday, June 1  | 2nd Enrollment Seat Deposit Deadline/Intent to Enroll Form |
| Monday, July 15 | Final Application Deadline |
| Monday, July 15 | Deadline to Submit Final Transcripts |
| Thursday, August 1 | Deadline to Submit Residency Application |
Start with LSAC - Students considering law school should begin their process by visiting the Law School Admission Council's website at LSAC.org. All students looking to enroll in law school will be required to register with LSAC, take the Law School Admission Test (LSAT), and apply to their preferred law schools through the LSAC portal. LSAC's FlexApp makes it easier than ever to complete the application process.
Free LSAT Prep - LSAC and Khan Academy have recently partnered to offer a personalized FREE LSAT prep program to interested students. You can lean more about the Khan Academy LSAT Prep program by clicking the hyperlink.
UC Prep Course - UC Office of Professional and Continuing Education is offering prep programs for students taking the LSAT
Taking the LSAT - The LSAT is administered multiple times throughout the year, and you can register for an LSAT here. Once you've completed the LSAT and have received a score you feel best represents your abiliities, you are encouraged to begin visiting your top-choice law schools. Cincinnati Law offers private visits on a weekly basis as well as a Fall Open House, which typically occurs in early November. Any interested student is welcome to attend.
Retaking the LSAT: Test takers are permitted to take the LSAT:
Three times in a single testing year (June 1 to May 31)
Five times within the current and five past testing years (the period in which LSAC reports scores to law schools)
A total of seven times over a lifetime
The Digital LSAT - LSAC is now offering two full official LSAT practice tests on their official Digital LSAT platform, giving potential test takers the opportunity to familiarize themselves with the Digital LSAT interface and features under simulated test conditions.  Click here to learn more about how to prepare for the Digital LSAT.
Fairs & Forums - Throughout the academic year (primarily in the fall), law school fairs and forums are hosted across the nation at colleges and universities. You are highly encouraged to attend local events and speak directly with representatives from various law schools. The representatives are there to offer guidance and advice on how best to apply to their individual law schools. Students who attend these events should do research on their preferred schools prior to attending. You can find out where we'll be at each fall by visiting our Admisisons Events page, and selecting the "Admissions on the Road" chevron.
Contact Us - If you have questions, you are highly encouraged to call our Office of Admission & Financial Aid at 513.556.0078 or email us at admissions@law.uc.edu.
The following items must be submitted in order for the application to be considered complete:
1. A Completed Regular Decision Application for Admission
The College of Law requires each applicant to complete the regular decision application for admission in its entirety. Failure to disclose information on the College of Law application will result in the suspension of your application processing. The application must be signed electronically by the applicant. The applicant should note that the information released on the application related to character and fitness may become part of a future state bar application. An application cannot be considered complete until a Character and Fitness Form and explanation detailing any responses checked "yes" have been received (see item 7 below).
2. Application Fee
If you apply before February 1st, there is no application fee. If you apply after February 1, a nonrefundable fee of $35 must accompany the Credential Assembly Service E-app. As a publicly supported and leading law school nationally, the College of Law is committed to educating an academically talented and diverse group of students. To this end, we strive to keep our application fee as low as possible and among the lowest in the nation. Payment is collected by LSAC via credit card at the time you apply. The College of Law will waive the application fee for any applicant who has been awarded a need-based fee waiver for the LSAT/Credential Assembly Service by LSAC.
3. Law School Admission Test (LSAT) Score(s)
All applicants are required to take the LSAT. The highest LSAT score (not an average) will be used in the admissions process. The College of Law recommends  candidates take the LSAT beginning in June preceding application to law school. March test scores will be considered provided the applicant has submitted all other required materials by the March 15 deadline. Applicants are strongly encouraged to retake the LSAT if the initial score is significantly below the college's published LSAT median.
Potential LSAT takers can now access Khan Academy Official LSAT Prep to create a personalized LSAT practice plan with official LSAT exams. And best of all, it's 100% free!

The aim of Khan Academy Official LSAT Prep is to help students build the skills and confidence to succeed on test day—all on their own schedule. The program will diagnose a student's strengths and weaknesses to create a tailored LSAT practice plan. Students learn in real time with exclusive interactive lessons, videos, practice questions, and timed tests. They can track their progress toward their goal on the schedule they set.   
4. Two Recommendations Through the LSAC Letter of Recommendation Service
Two letters of recommendation are required and must be submitted through LSAC. A good reference choice is a college professor who has first-hand knowledge of the applicant's scholastic abilities and work habits and is, therefore, able to write a meaningful recommendation. Applicants who have been out of college for several years or who find it difficult to reach professors can obtain references from employers, supervisors or attorneys who are familiar with the applicant's qualifications for law study. Candidate evaluations are not required as part of the application, but applicants may submit them with their application.
5. The Credential Assembly Service Report & Receipt of a Bachelor's Degree
Applicants for admission are required to register for the Credential Assembly Service. The applicant is responsible for sending official transcripts to LSAC for each undergraduate or graduate college or university attended. At least two letters of recommendation should also be submitted this way as well. The Credential Assembly Service will analyze the applicant's transcripts, copy your letters of recommendation and send a Credential Assembly Service Law School Report to the College of Law.
To be considered for admission, a candidate must have a bachelor's degree from an accredited college or university by the date of anticipated enrollment. A notice of acceptance may be issued before the undergraduate degree has been obtained, but such acceptance is conditional upon the applicant's receipt of the degree.
6. Personal Statement
A well-written personal statement is the most effective means of communication with the Admissions Committee. Applicants may use the personal statement to provide insight into the general background and motivation the applicant can bring to the College of Law. The personal statement also serves as a sample of the applicant's writing ability. Two pages double-spaced is the appropriate length for your personal statement.

Please choose one of the following topics below:
The University of Cincinnati College of Law has many unique programs and attributes. Given there are many law schools throughout the country, please discuss why you want to attend law school and, more specifically, why you have applied to the University of Cincinnati College of Law.
The Admissions Committee will have your LSAT score, academic transcripts, and résumé to review during the admission process. However, the committee recognizes that students can bring other intellectual and academic contributions to the College of Law community. Please discuss any topic that is of interest to you or has stimulated your intellect. Examples might include the discussion of an issue of local, national, or international concern and its importance to you; a person who has had significant influence on you; or a character in fiction, a historical figure or a creative work that has impacted you.
Given your personal background, please discuss how you would add to the diversity of the community at the College of Law.
Discuss a topic of your choice.
7. Qualifications for Admission to the Bar
In addition to a bar examination, there are character, fitness, and other qualifications for admission to the bar in every U.S. jurisdiction. Applicants are encouraged to determine the requirements for any jurisdiction in which they intend to seek admission by contacting the jurisdiction. Addresses for all relevant agencies are available through the National Conference of Bar Examiners: www.ncbex.org.
8. Résumé
A current résumé is required. Be sure to prioritize experiences most relevant to preparation for success in law school.
9. Statement on Applicants with International Degrees
The University of Cincinnati College of Law requires international transcripts be submitted through the LSAC Credential Assembly Service. If applicants completed any postsecondary work outside the US (including its territories) or Canada, they must use this service for the evaluation of international transcripts. The one exception to this requirement is if applicants completed the international work through a study-abroad, consortium or exchange program sponsored by a US or Canadian institution, and the work is clearly indicated as such on the home campus transcript. This service is included in the Credential Assembly Service registration fee. An International Credential Evaluation will be completed by the American Association of Collegiate Registrars and Admissions Officers (AACRAO), which will be incorporated into the applicant's Credential Assembly Service report. To use the Credential Assembly Service, log in to your online account and follow the instructions for registering for the service. Be sure to print out a Transcript Request Form for each institution and send it promptly to them. More time is usually required to receive international transcripts. Questions about the Credential Assembly Service can be directed to LSAC at 215.968.1001 or to LSACinfo@LSAC.org.
All applicants, whose first language is not English, are required to take the TOEFL and must contact the Educational Testing Service (ETS) and request that their TOEFL score be sent to LSAC or to the College of Law directly. LSAC's TOEFL code for the Credential Assembly Service is 0058. The applicant's score will be included in the International Credential Evaluation document that will be included in the Credential Assembly Service Law School Report.
If admitted, any degree earned outside of the United States must have its transcript evaluated by World Education Services, Inc. Visit www.wes.org/students to initiate a transcript evaluation report which must be sent from WES to the College of Law at the above address by July 1. Candidates must have WES send both a degree equivalency analysis and a course-by-course analysis.
10. Prior Law School Information (if applicable)
If you have ever enrolled in any law school you are required to attach an electronic document indicating what school, when you attended, and your reasons for leaving. In addition, a letter of good standing and a transcript from the law school must be included with your application.
Q. What are the requirements to apply for law school?
A. Applicants to the JD program must have a bachelor's degree in any field from an accredited college or university by the time they enter law school. All applicants are required to take the Law School Admission Test (LSAT) and have all academic transcripts sent to the LSAC Credential Assembly Service (CAS). Our admissions requirements are available here. International applicants are encouraged to read requirement nine carefully. More information on the LSAT and CAS is available at www.lsac.org.
---
Q. When can I apply for admission?
A. The College of Law offers only a fall start for first-year students in the JD program. Applications may be submitted any time between September 1 and July 15 with priority given to students who apply before February 1. To begin the admissions process, please visit the following link here.
---
Q. How do I apply for scholarships from the College of Law?

A. All students who are admitted to the College of Law are automatically  considered for scholarship. Simply complete the scholarship section of the admission application.
---
Q. When are applications reviewed and who reviews the applications?

A. The admissions committee, composed of the Office of Admissions, three faculty members, and two students, begins the review process each fall. Using a full file review process, the committee considers all factors including personal statements and letters of recommendation, along with numerical measurements such as the LSAT score and undergraduate grade point average. Therefore, we strongly encourage applicants to give special attention to their personal statement and letters of recommendation as they are read carefully and considered by the committee.
---
Q. When are applicants notified of an admission decision?

A. The Admissions Office will notify you by email when your file is complete. Once you have received this email, the committee has begun reviewing your file and you will often hear a decision within 2-3 weeks. Applicants may also use our online status checker. Details to access the portal will be sent to you via email.
---
Q. If admitted, when will I have to pay an acceptance deposit?

A. If admitted prior to March 15, the first acceptance deposit date is April 15. For students admitted after March 1, the first acceptance deposit deadline is typically 2-4 weeks from the date of acceptance. Cincinnati Law requires two enrollment deposits of $250 (non-refundable). For these reasons, we prefer not to grant acceptance deposit extensions.
If admitted First-Choice, you will be required to submit only one deposit of $350 by April 1.
---
Q. How much does it cost to attend Cincinnati Law?

A. Ohio resident tuition and fees for the academic year are $24,010, with non-resident tuition and fees at $29,010. Approximately 95% of the entering classes from 2014-2022 were awarded scholarships further reducing students' actual net cost. The Cincinnati area has a low cost of living, especially considering the size of our metropolitan area. In 2021, Cincinnati was ranked No. 2 in the nation for Most Affordable Cities by Move.org.
---
Q. Is admission competitive?

A. Annually, more than a thousand candidates apply to join our first-year class. Because many applicants apply and are admitted to more than one law school, the College admits more applicants than ultimately matriculate. The same admissions standards apply for both Ohio residents and non-residents. The median LSAT and GPA for the entering Fall 2021 class were a 158 and a 3.73.
---
Q. Can I attend Cincinnati Law part time?
A. While we do not offer a part-time evening program, a limited number of seats are available in our Flex-Time Program, which is a reduced full-time, day program. Click here for details.
---
For further information, please contact us at the following addresses:
University of Cincinnati College of Law
Office of Admissions
PO Box 210040
Cincinnati, Ohio 45221-0040
admissions@law.uc.edu
(513) 556-0078
Equity and Inclusion
Our commitment to diversity extends beyond traditional notions of ensuring that our community reflects the diversity of the clients our graduates will serve.  We are equally committed to inclusion and ensuring every member of our community – no matter how they identify – has access to the opportunities the College of Law offers. Discover more...
Areas of Study
Cincinnati Law offers second and third year law school students the opportunity to select from nine Areas of Study, based on their varied interests and often driven by their own career objectives and a desire to have a rigorous and fulfilling academic experience. Our areas of study are designed to help students identify courses that will be useful to them as they prepare to enter specific practice areas in the profession.
Career Resources for Current Students
Thinking like a lawyer might get you an interview, being a professional will get you the job.  From the beginning, the Center for Professional Development at UC Law will help you develop your professional brand, starting with Brand University during orientation and each week and month thereafter.
The CPD programs also expose students to the variety of professional settings in which graduates work and equips students with the tools necessary to manage their careers.
Real-World Learning
Practical experience not only boosts your résumé, it provides you with opportunities to build important connections, network across your interest areas and learn first-hand what different kinds of legal work entails.
Whether you dream of becoming a corporate executive, a prosecutor, judge or a social justice warrior, Cincinnati Law offers experiences, in our renowned centers and institutes and clinics, as well as through externships and fellowships, to help prepare you for a lifetime of success.
To learn more about the JD academic program, Academic Support, degree requirements, and more, visit our JD Program page under Academic Programs.
RANKINGS & POINTS OF PRIDE
Ranked a Top 45 Public Law School - U.S. News & World Report
4th Oldest Law School in the U.S. and Ohio's First
One of the Nation's Leading Social Justice Law Schools
2nd in the state for first-time takers (85%) and overall bar passage (82%) on the July 2021 Bar Exam
No. 3 Most Affordable Law School in the nation - U.S. News
An eight-time "Best Value Law School" - the National Jurist
A Top 10 Public Service program - preLaw Magazine 2021

A Top 25 Criminal Law program - preLaw Magazine 2021
A Top 30 Law School with the most Super Lawyers - preLaw Magazine 2021
Ranked a Top School Corporate Law, Public Interest Law, and Trial Advocacy by the National Jurist
8:1 Student-to-faculty ratio

Graduate debt levels nearly $80,000 less than the national law school average
Cincinnati Law's Ohio Innocence Project has helped release 42 individuals who together served more than 650 years in prison for crimes they did not commit.
One of the 25 Most Affordable Places to Live in the U.S. in 2021-2022 -  U.S. News
Cincinnati ranks No. 1 for best places for recent college graduates in 2022 by SmartAsset