Master of Laws (LLM) in U.S. Law
The University of Cincinnati's Master of Laws (LLM) in U.S. Law program offers a nationally recognized education with the possibility to transfer into our JD program after graduation. The LLM degree can be completed in as little as nine months, and with an 8:1 student-to-faculty ratio, our students benefit from increased personalized support from professors. Graduates emerge fluent in the U.S. legal system and ready to advance their careers. 
Our tuition is one of the lowest for a U.S. LLM program, and we offer generous scholarships as well.
We're excited to offer prospective LLM students the opportunity to hear advice from admission's professionals on getting admitted to a U.S. LLM program and finding success as a current student. Learn more below and register today!
LLM Drop-In Virtual Q&As: 12-1 PM EST
Log into the LLM Virtual Admissions Office on Thursdays to ask questions, find out the status of your application, learn more about our program—including concentration and specialization areas, practical experiences, and scholarships—and more.
Sept 6 | Oct 4 | Nov 7 | Dec 6 | Jan 10 | Feb 7 | March 7 | April 4
October 20 | 10-11 AM EST
December 8 |  10-11 AM EST
January 26 | 10-11 AM EST
Ranked a top LLM program for Value and Law School Experience by the International Jurist, 2021
RANKINGS & POINTS OF PRIDE
Ranked a Top 45 Public Law School - U.S. News & World Report
4th Oldest Law School in the U.S. and Ohio's First
One of the Nation's Leading Social Justice Law Schools
2nd in the state for first-time takers (85%) and overall bar passage (82%) on the July 2021 Bar Exam
No. 3 Most Affordable Law School in the nation - U.S. News
An eight-time "Best Value Law School" - the National Jurist
A Top 10 Public Service program - preLaw Magazine 2021

A Top 25 Criminal Law program - preLaw Magazine 2021
A Top 30 Law School with the most Super Lawyers - preLaw Magazine 2021
Ranked a Top School Corporate Law, Public Interest Law, and Trial Advocacy by the National Jurist
8:1 Student-to-faculty ratio

Graduate debt levels nearly $80,000 less than the national law school average
Cincinnati Law's Ohio Innocence Project has helped release 34 individuals who together served more than 650 years in prison for crimes they did not commit.
One of the 25 Most Affordable Places to Live in the U.S. in 2021-2022 -  U.S. News
Cincinnati ranks No. 1 for best places for recent college graduates in 2022 by SmartAsset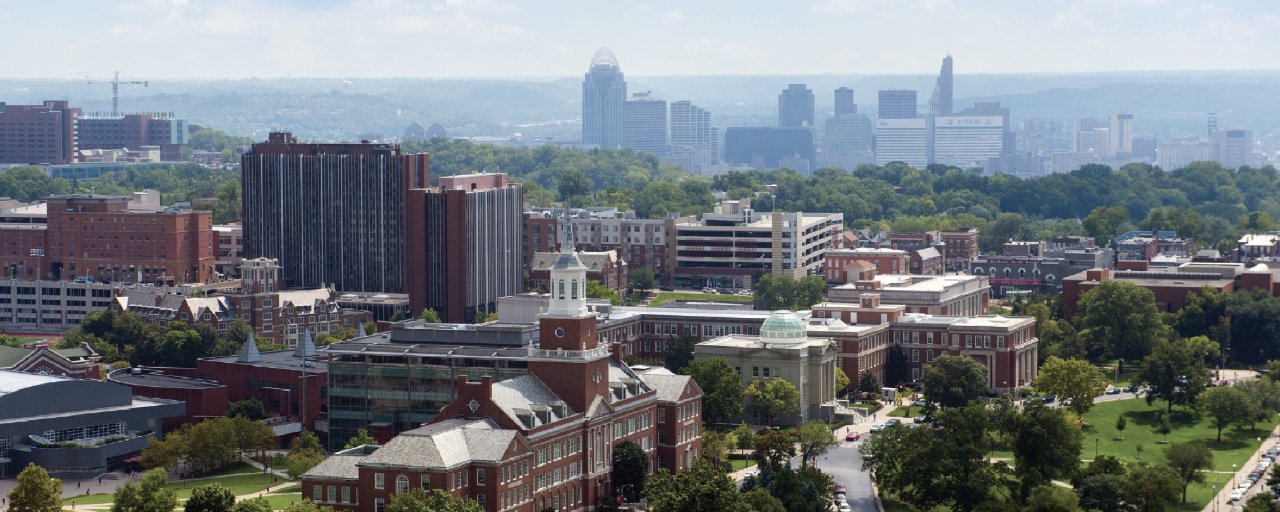 Why Study at Cincinnati Law?
Here, All Are Welcome—Cincinnati offers a variety of legal practices that allow LLM students to experience the diverse and talented legal community in the city. We even provide opportunities for practice observations at courtrooms, law firms, and more. UC Law is connected with the premiere names in the local law community, which makes networking all the easier. Hear from UC LLM students themselves on what makes our program so beneficial.
Community—As an LLM student at UC Law, you'll get the best of both worlds. Our small class sizes mean personalized attention from faculty & staff, while at the same time you can benefit from the advantages of studying at a world class research institution. The University of Cincinnati was recently ranked among world's 200 best universities; 68th best in U.S.
Access & Opportunity—Another benefit of our program is work experience opportunities. Students have the benefit of working with JD students, local attorneys, and real law clients. This practical experience is unique and indispensable for their post-graduation careers. UC Law offers fellowships for LLM students in conjunction with the Ohio Innocence Project and the Urban Morgan Institute for Human Rights.

I thought I was coming to Cincinnati Law for an academic experience, but it was so much more. I never felt alone here, it was like a family.
Shadiah Obaidi LLM '20 (Italy)
LLM Admissions Requirements
Due to the Coronavirus crisis, it might be difficult to get some of your documents.   We can HELP you with this.  Email us at uclawllm@uc.edu
UC Law's LLM program requires the following application materials:
A personal statement
Resume or CV
Two recommendations
Credential evaluation
TOEFL, IELTS, or CEFR score, or ELS
A more comprehensive guide can be found on our LLM application page.
UC Law offers scholarships to highly-qualified LLM candidates. Scholarships are also provided to students from underrepresented regions and countries. In addition to general achievement scholarships, fellowships are available to students studying in the areas of criminal law and international human rights. Visit our Scholarships page to learn more about scholarships for LLM students.
The University of Cincinnati prides itself on providing a rigorous and well-regarded LLM program at a low tuition rate of only $29,010/year. Learn more about tuition and aid.
Apply to UC Law's LLM program today!
The University of Cincinnati's Master of Laws in U.S. Law program provides real-world experience, a highly-regarded education, and the opportunity to graduate in nine months. If you've already been accepted into the program, visit our admitted students page. Interested in learning more? Request information today! Your next starts now. Are you ready?
New Building Virtual Tour