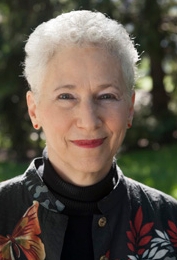 Marianna Brown Bettman
Distinguished Teaching Professor and Professor of Practice Emerita, College of Law
Areas of Interest: Judicial Independence, Supreme Court of Ohio, Torts
Professor Bettman taught at the College of Law from 1999 until her retirement in February of 2016. She writes a blog, Legally Speaking Ohio, as well as a monthly newspaper column, Legally Speaking, which appears in the American Israelite.  Drawing on her experience as a practitioner and jurist, she has been recognized at every level for her teaching excellence and by the Ohio State Bar Association for her contributions to the legal profession. 
Professor Bettman also is a frequent speaker on tort reform, separation of powers, state constitutional law in Ohio, the Ohio Supreme Court, and the election of judges, and serves as an appeals consultant to lawyers throughout Ohio. 
The College's Judge-in-Residence Program was directed by Professor Bettman, who brought in a distinguished jurist annually to attend classes and meet with students.  She also directed the Judicial Extern Program, working closely with the Center for Professional Development to create placements for UC Law students in judges' chambers.
Professor Bettman was in the private practice of law until she became the first woman ever elected to the Ohio First District Court of Appeals in 1992. She served on that court from 1993-1999 and was an endorsed Democratic candidate for the Ohio Supreme Court in 1996.
Professor Bettman graduated with honors in 1977 from the University of Cincinnati College of Law, where she was a winner of the Constitutional Law Prize and the first woman at UC Law to take first prize in Trial Advocacy.
Since her retirement, Bettman has been an active volunteer in the Hamilton County Help Center, a joint venture among the Hamilton County Commissioners, the Hamilton County Clerk of Courts and the U.C. College of Law. The Help Center offers free limited legal advice to people without lawyers in certain civil cases in municipal court. 

BA, University of Cincinnati
JD, University of Cincinnati

Judicial Independence
Supreme Court of Ohio
Torts
Advanced Torts
Judicial Extern
Legal Ethics
Ohio Supreme Court Seminar
Torts
2019 Trustee's Award, Cincinnati Bar Association
2018 Seniors Who Rock, awarded by ProSeniors
2016 University of Cincinnati Distinguished Teaching Professor Award (highest teaching prize at the University of Cincinnati)
2016 University of Cincinnati Distinguished Alumni Award, College of Law
2014 Goldman Prize for Excellence in Teachings
2011 Excellence in Education award, Ohio Magazine
2011 Goldman Prize for Excellence in Teaching
2008 National Chapter NAACP Foot Soldiers in the Sand Award
2008 University of Cincinnati A.B. "Dolly" Cohen Award for Excellence in Teaching
2008 Nettie Cronise Luttes award, Ohio State Bar Association
2007 Cincinnati Chapter NAACP Fair and Courageous Award
2005 Goldman Prize for Excellence in Teaching, UC College of Law
2001 University of Cincinnati Law Alumni Association Distinguished Alumna Award
1998 University of Cincinnati Women's Studies Distinguished Alumna Award
1998 Leading Women Award for Public Service and Government
1996 Cincinnati Women's Political Caucus Outstanding Achievement Award
1994 YWCA Career Woman of Achievement Award
1993 Ohio Academy of Trial Lawyers Outstanding Journalism Award