S. Elizabeth (Betsy) Malloy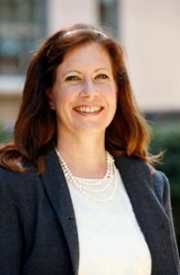 S. Elizabeth (Betsy) Malloy
Andrew Katsanis Professor of Law, College of Law
540 College of Law Building
Areas of Interest: Disability Law, Health Law, Torts
Professor Betsy Malloy is the Andrew Katsanis Professor of Law at the University of Cincinnati College of Law.  She teaches courses in the areas of health law, disability law, and torts.  She has served as the faculty director for the Glenn M. Weaver Institute of Law and Psychiatry and as editor of the HealthLawProf Blog, part of the Law Professors blog network.
Professor Malloy's scholarship focuses on disability law and health law. She has written on a variety of topics including end-of-life treatment, the impact of physician restrictive covenants on the delivery of health care, and the intersection of the Family Medical Leave Act and the Americans with Disabilities Act.  She has been published in a number of law reviews, including the Boston College Law Review, the William and Mary Law Review, the Georgia Law Review.  She has also contributed several book chapters to a textbook detailing the changes in health care under the Patient Protection Affordable Care Act. 
Before entering academe, Professor Malloy practiced law as a litigation associate with Covington and Burling in Washington, DC. She also served as a judicial clerk for the Honorable Eugene A. Wright of the Ninth Circuit Court of Appeals.
Professor Malloy earned her bachelor's degree from the College of William and Mary and her law degree from the Duke University School of Law where she was Notes Editor of the Duke Law Journal and was inducted into the Order of the Coif.
BA, College of William and Mary
JD, Duke University

Disability Law
Health Care Entities
Health Care Law
Torts
2000 Goldman Prize for Excellence in Teaching
Articles, Essays, and Book Reviews
Dangerous Science: The Use of Evolutionary Psychology in the Law, Boston College Law School (Spring 2001)
The Learned Intermediary Doctrine in the Era of Pharmaceutical Television Advertising, 2001 National Rendigs Moot Court Competition, University of Cincinnati College of Law (Spring 2001)
Speaking Freely: Conflicts Between the Ethical Rules and An Attorney's First Amendment Rights, Lawyer's Club, Cincinnati, Ohio (Fall 2000)
Something Borrowed, Something Blue: Why Are Disability Law Claims Any Different?, University of Cincinnati College of Law (Summer 2000)
The Learned Intermediary Doctrine: A New Warning to Pharmaceutical Manufacturers, 2000 National Rendigs Moot Court Competition, University of Cincinnati College of Law (Spring 2000)
Conflicts of Interests and Institutional Review Board Regulations, University of Cincinnati College of Medicine and the Cincinnati Children's Hospital Medical Center (Winter 2000)
Taming Terrorists But Not 'Natural Born Killers,' Northern Kentucky School of Law (Fall 1999)
The Attorney-Client Privilege: A Post-Mortem Analysis of Swidler & Berlin v. United States, Lawyer's Club, Cincinnati, Ohio (Fall 1999)
Recalibrating the Cost of Harm Advocacy Speech: Getting Beyond Brandenburg, University of Cincinnati College of Law (Summer 1999)
Warranty Liability and the Y2K Problem, 1999 National Rendigs Moot Court Competition, University of Cincinnati College of Law (Spring 1999)
Mentoring, and Authorship and Peer Review, University of Cincinnati College of Medicine and the Cincinnati Children's Hospital Medical Center (Winter 1999)
Law School Exam Skills National Black Law Students Association, University of Cincinnati College of Law (Fall 1998)
Revisiting the Public/Private Distinction: Employee Monitoring in the Workplace, University of Cincinnati College of Law (Summer 1998)
Whose Federalism, Indiana University School of Law-Indianapolis (Spring 1998)
Employment Issues Facing Health Care Workers in the Era of Managed Care, University of Cincinnati College of Nursing (Spring 1997)
Women in Law Firms, Mount Vernon College, Washington, D.C (Spring 1996)