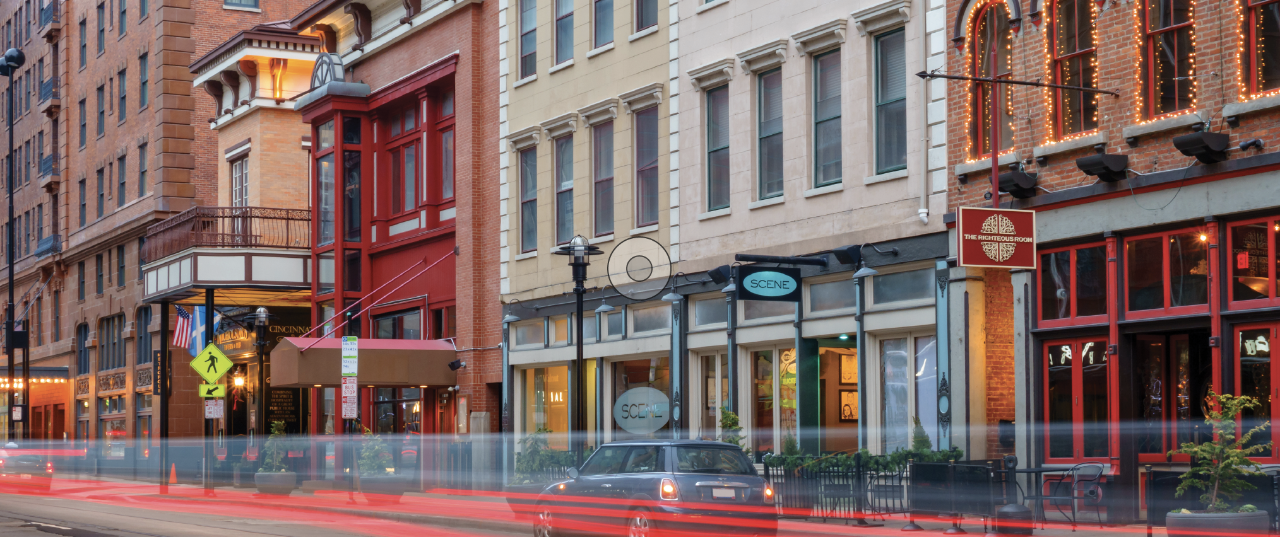 Cincinnati - A Brief History
Initially founded in December 1788, the "City of Seven Hills" has continued to prosper in its booming economy and opportunity for residents. In the 19th century, the city rivaled other coastal towns in its size and wealth, given its geographical location along the Ohio River, and its surge of immigrants. Now, the same is true. Forbes named the Queen City "an emerging hotbed for entrepreneurial growth," while the Huffington Post added Cincinnati to its "top 10 up-and-coming U.S. Cities."

Top For Young Professionals
Cincinnati is home to many bustling neighborhoods, along with an impressive metropolitan area full of thriving businesses. The city metro system and the brand new downtown streetcar makes getting around the city easier than ever, and gives the feel of a small city. The region ranks higher than New York, Boston, Chicago, and Los Angeles for the number of Fortune 500 companies per capita. Eight Fortune 500 companies and fifteen Fortune 1000 companies call Cincinnati home.

One of the 25 Most Affordable Places to Live in the U.S. in 2021-2022 -  U.S. News

2023 HOUSING GUIDE
In addition to the information below, the College of Law has partnered with a company to develop a housing guide based entirely on feedback from current law students. Click here to view the detailed housing guide.
The College of Law and the University of Cincinnati's Uptown Campus, is in Clifton, just up the hill (uptown) from downtown Cincinnati. U Square@ the Loop is a new development near the College of Law with its own retail establishments, restaurants, apartments, and parking garages. North of campus on Clifton Avenue, the Clifton Gaslight District has long been reputed for its beautiful, historic homes. The Gaslight's Ludlow Avenue business district is home to a breadth of independent shops, restaurants, and a movie theater specializing in independent and foreign films.
FEATURES
Walking distance: Approx. 1 mile from the College of Law
Ludlow Ave. Business District houses coffee shops, an indie movie theatre, and a historic Skyline Chili Restaurant
Near Cincinnati Zoo & Botanical Gardens
Northside is a diverse, pedestrian-friendly neighborhood a few miles northwest of the University of Cincinnati's campus. It has a reputation as an artist community and many of Cincinnati's original bands can be heard at the Northside Tavern. Northside's eclectic shops and restaurants also make it a popular afternoon or weekend destination.
FEATURES
Eclectic, artist community situated north of the Clifton Gastlight District
Known for its local music, restaurants, and unique alternative culture
Popular among young professionals, professional students, and members of the creative class
Each neighborhood in Cincinnati has its own unique personality, but the Hyde Park and Oakley areas are particularly attractive to young professionals. Hyde Park Square is a popular gathering place for many outdoor events and maintains an enviable variety of local shopping sites. Residents of the Oakley area enjoy a monthly street festival called "Oakley After Hours", during which neighborhood retail and food establishments stay open late while patrons enjoy live entertainment by local artists.
FEATURES
Two adjacent "cityburbs" situated roughly 6 miles from UC's campus (via I-71)
Active community (runners, cyclists, etc.)
Convenient to some of Cincinnati's most beautiful parks
Charming town square offers a farmer's market, specialty retail, and entertainment
Downtown Cincinnati houses one of the most robust entreprenuerial ecosystems in the country. Home to more than 100 law firms (800 in greater Cincinnati), downtown provides law students with access to unique opportunites to enhance their skills and build their résumés. From major corporations, to BigLaw, to mid and small sized law firms,Cincinnati has everything a young legal professional could want.
Over-the-Rhine (OTR) is one of Cincinnati's most historic and architectually beautiful neighborhoods. Nestled between Downtown and Clifton (UC), OTR is home to Cincinnati's premier food, bar, and arts districts. Featured nationally for it's revitalization and cultural renaissance, OTR was recently ranked the No. 3 Coolest Neighborhood in the Nation. You'll definitely want to stop by Over-the-Rhine and visit Findlay Market (pictured above), Ohio's oldest continuously operated public market and Cincinnati's staple.
FEATURES
Both the Banks and Over-the-Rine offer urban living that is convenient to the heart of Downtown Cincinnati and the University of Cincinnati
The Banks: Cincinnati's riverfront hosting the entertainment district between Great American Ball Park (Red's) and Paul Brown Stadium (Bengals)
OTR: Cincinnati's trendiest
Mount Adams is one of Cincinnati's seven hills and is known for its steep inclines and stunning views of the Ohio River and downtown. Young people are drawn to the popular bars and restaurants on its hilly streets. As this scenic neighborhood is just a short commute from the University of Cincinnati's campus, Mount Adams is also a popular housing location for law students.
FEATURES
Known for its steep inclines and stunning views of the Ohio River and Downtown
Popular among young professionals – some high-end real estate
Very convenient to Downtown, Northern Kentucky, and to UC's campus
Historic landmarks and establishments: Krohn Conservator, Eden Park, and more!
NEWPORT
Newport, a waterfront town situated on the Ohio-Kentucky border, is a 15 minute drive to the University of Cincinnati College of Law. The area's main attraction is Newport on the Levee, which hosts dozens of restaurants, a major movie theater, shopping, and a nationally recognized aquarium. Newport is also the location of the famous Hofbräuhaus, voted one of America's Most Popular Bars by Buzzfeed. This beer hall and garden uses original recipes to brew its house beer in addition to its large menu of traditional Bavarian dishes.
COVINGTON
Covington is located west of I-75 and boasts a large variety of unique restaurants, bars, and shopping. MainStrasse is Covington's most notable neighborhood and plays host to a number of festivals throughout the year. Covington is located roughly 15-20 minutes from the College of Law, and is known for its spectacular views of the Cincinnati landscape. The city also connects to downtown Cincinnati through the Roebling Suspension Bridge, a famous Cincinnati landmark named after architect John A. Roebling, who also designed the iconic Brooklyn Bridge. Devou Park, in the Park Hills district, is also a main feature of Covington as it offers comfortable apartment living with dramatic views of downtown Cincinnati.
BELLEVUE
Bellevue is located just minutes from Newport on the Levee, but maintains a unique identity. This residential part of Northern Kentucky claims its own main street of restaurants and shopping located on Fairfield Avenue while offering a short commute to campus.
FORT THOMAS
Fort Thomas is a quiet community bordering both Newport and Bellevue that is known for its charming, small town appeal. The area's great parks and supportive community make it a popular location for families and young professionals alike. Despite its removed, suburban feel, the city is only a short drive to both downtown Cincinnati and the College of Law.