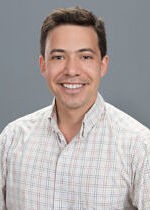 Andrew Mamo
Associate Professor of Law, College Of Law
413 College of Law Building
Areas of Interest: Alternative Dispute Resolution, Legal History, and Professional Ethics
Professor Andrew Mamo, a legal scholar with expertise in the areas of dispute resolution, mediation, negotiation, and contracts, has joined the faculty at the University of Cincinnati College of Law as Associate Professor of Law. He will teach in the areas of Dispute Resolution and Counseling.
Mamo focuses his research on the history and theory of dispute resolution and negotiation, with an emphasis on the history of dispute resolution practices, the role of technology in dispute resolution, and the professionalization of third-party neutrals. His current projects include a critical examination of the concept of "self-determination" in mediation and a study of the complexity of dispute resolution systems.
Mamo received his SB in physics from the Massachusetts Institute of Technology, his PhD in history from the University of California, Berkeley, and his JD from Harvard Law School. After graduating from law school, Mamo clerked for Judge Hisashi Owada and Judge Julia Sebutinde of the International Court of Justice in The Hague. He then worked on cross-border capital markets and project finance transactions at a major international law firm in Singapore. Mamo joined Harvard Law School as Lecturer in Law and a Clinical Instructor at the Harvard Negotiation and Mediation Clinical Program, teaching negotiation and supervising teams of clinical students representing clients on a range of dispute systems design projects. Prior to joining the College of Law, he was an Assistant Professor of Law at Northern Illinois University College of Law.
SB, Massachusetts Institute of Technology
PhD, University of California, Berkeley
JD, Harvard Law School
Unsettling the Self: Rethinking Self-Determination in Mediation, 93 Miss. L.J. (forthcoming). 
Object Lessons: The Materiality of Dispute Resolution, 38 Ohio State J. on Disp. Resol. (forthcoming 2023). 
Putting the "Alternative"  Back into ADR, 70 Wash. U. J. of L. and Pol'y 158 (2022) 
Against Resolution: Dialogue, Demonstration, and Dispute Resolution, 36 Ohio State J. on Disp. Resol. 251 (2021) 
Negotiation Pedagogy as Democratic Praxis, 37 Negot. J. 149 (2021) 
Three Ways of Looking at Dispute Resolution, 54 Wake Forest L. Rev. 1399 (2019).
Getting to Peace: Roger Fisher's Scholarship in International Law and the Social Sciences, 29 Leiden J. Int'l L. 1061 (2016).
History and the Boundaries of Legality: Historical Evidence at the ECCC, 29 Columbia J. Asian L. 114 (2015).
Note,"The Dignity and Justice That Is Due to Us by Right of Our Birth": Violence and Rights in the 1971 Attica Riot, 49 Harvard C.R.-C.L. L. Rev. 531 (2014).
Introduction to the Symposium on Croatia v. Serbia, 28 Leiden J. Int'l L. 887 (2015).
Critical Lawyering and Prison Reform, 2014 FASPE Journal 28.