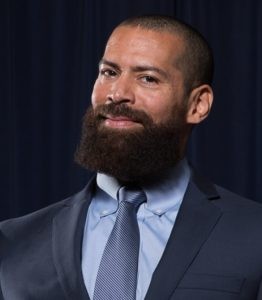 Ahmed Lavalais
Assistant Professor of Law, College Of Law
409 College of Law Building
Areas of Interest: Race and the Law, Criminal Law, Juvenile Law, Legal History
Professor Ahmed Lavalais has joined the College of Law as an Assistant Professor after holding a fellowship in the Policy Advocacy Clinic (PAC) at the University of California, Berkeley, School of Law, and the role of policy director in the Civil Rights Division at the Orleans Parish District Attorney's Office. He will teach in the areas of Race and the Law, Criminal Law, and Juvenile Law.
Professor Lavalais' research explores how social attitudes and racial ideologies inform the contemporary legal doctrine, policymaking, and practices of the criminal system. His current project develops a fuller analysis of the ways in which White Supremacist thought influences key elements of contemporary criminal law.
Lavalais' prior project explored how racialized presentations of youth crime during the 1980s and 90s contributed to contemporary legal structures that foist sociocultural and economic responsibility for crime onto Black and Latino/a communities. That piece was developed while Lavalais was at Berkeley Law working on PAC's national multi-year campaign to abolish discriminatory monetary sanctions imposed on youth and families by the juvenile legal system.
After his fellowship, Lavalais joined the staff of Orleans Parish District Attorney Jason Williams, who was elected as part of a nationwide push to shift local prosecutor's offices away from policies and practices long seen as contributing to mass incarceration.
As a law student, Lavalais worked at the Western Center on Law & Poverty on legislation to help end the criminalization of low-income youth; he also worked at the East Bay Community Law Center in its Education, Defense and Justice for Youth Clinic, and at the Contra Costa County Public Defender's Office representing young people in school expulsion and delinquency proceedings.
Lavalais received his BA in philosophy from the University of California, Berkeley, graduating with honors. He earned his JD from the University of California, Berkeley, School of Law, where he was a National Jurist Law Student of the Year.
BA, University of California, Berkeley
JD, University of California, Berkeley, School of Law
Race and the Law
Criminal Law
Juvenile Law