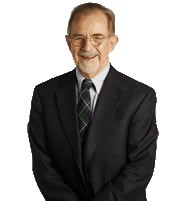 Gordon A. Christenson
Dean Emeritus and University Professor Emeritus of Law, College of Law
When he joined UC College of Law as Dean and Nippert Professor of Law in 1979, Professor Christenson brought a rich background of scholarship and experience to Cincinnati. In the late 70s, he held the Charles H. Stockton Chair of International Law at the U.S. Naval War College. Earlier, he was dean and professor of law at the Washington College of Law at American University.
In 1985, Professor Christenson was appointed university professor of law at UC. He has taught at six major law schools, including most recently at the University of Hawaii where he held the Wallace S. Fujiyama Distinguished Visiting Professorship in 1997.
Professor Christenson has held posts with the Office of the Legal Adviser of the U.S. Department of State and as assistant general counsel for science and technology at the U.S. Department of Commerce. He is a member of the Board of Editors of the Human Rights Quarterly, trustee of the Procedural Aspects of International Law Institute, a trustee of the Glenn M. Weaver Institute of Law and Psychiatry, a member of the American Society of International Law, and a fellow of the Graduate School of the University of Cincinnati.
BSL, University of Utah
JD, University of Utah
SJD, The George Washington University