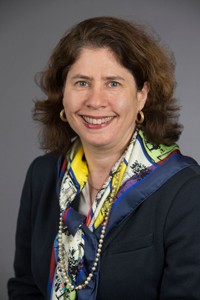 Jennifer S. Bard
Professor of Law and Professor, Department of Internal Medicine, College of Law
536, College of Law Building
Jennifer S. Bard, J.D., M.P.H., Ph.D.  is a professor of law at the University of Cincinnati College of Law where she also holds an appointment as professor in the Department of Internal Medicine at the University of Cincinnati College of Medicine. She teaches a range of courses including Public Health Law, Health Law, Torts, Insurance Law, Remedies, FDA Law, and Vaccine Law.  An elected member of the American Law Institute, from 2015-2017 she served as Dean of the University of Cincinnati College of Law. Before coming to Cincinnati, Dr. Bard held the Alvin R. Allison Chair in law at Texas Tech University's Law School and was a professor in the department of psychiatry at TTUHSC Medical's School and a professor of public health in TTUHSC's Graduate School of Biomedical Sciences.  From 2005 to 2015 she was Director of the Health Law Concentration Program . Additionally she was Assistant Director for International Human Subject Testing, Center for Biodefense, Law and Public Policy.
She has been a Robert Wood Johnson, Scholars in Residence Fellowship and Assistant Director (2007-2015), Principal Investigator (2006-2007), The Law, Policy, and Ethics Core, Western Regional Center of Excellence for Biodefense and Emerging Infectious Diseases Researchf unded by Public Health Services, Department of Health and Human Services
She has a B.A. from Wellesley College, J.D. from Yale Law School, Master's in Public Health from the University of Connecticut, and a Ph.D. in Higher Education from Texas Tech University.  She has held leadership positions in a number of professional organizations including the American Public Health Association Section on Ethics, the American Association of Law Schools Sections on Health Law and Mental Disability, and the American Association of Bioethics and the Humanities.
From July 2001-July 2003 she held appointments at the University of Texas Medical Branch in Galveston (UTMB) as an Assistant Professor in the Department of Preventive Medicine and Community Health and in the  Graduate School of Medical Sciences University of Texas Medical Branch, Institute for the Medical Humanities.   In that capacity, Dr. Bard was the Clerkship Director for a Medical Jurisprudence rotation required for all third year undergraduate medical students.  She also served as the Research Director of the  Program on Legal and Ethical Issues In Correctional Health which included consulting with the prison hospitals administered by UTMB on complex ethical issues. She also held an appointment as a Scientist in the Sealy Center for Vaccine Development and a Fellow in the Center for Interdisciplinary Research in Women's Health.
In 1995 she was a Health Policy Analyst at AIDS Action Council, Washington D.C. where she Advised national organization representing 135 HIV/AIDS groups on developing policy and drafting legislation to provide effective health care for individuals with HIV/AIDS, drafted policy papers on issues involving the structuring of Medicaid and Medicare services, and  Co-chaired Medicaid Subcommittee of the National Organizations Responding to AIDS. (NORA)
She has been a visiting scholar at Harvard Law School's Petrie-Flom Center for Health Law Policy, Biotechnology, and Bioethics and the O'Neill Institute for National & Global Health Law at Georgetown Law and a visiting professor at the University of Florida, Penn State University's Hershey Medical Center, the University of Iceland's Law Faculty, and in the LLM program at LaTrobe University in Melbourne, Australia.
Dr. Bard is a prolific and highly successful scholar in the disciplines of law, public health, and bioethics. She has published numerous articles and book chapters and frequently publishes op-eds in publications such as the Harvard Law School Bill of Health Blog, STAT, the Washington Post, and the New York Times.
Dr. Bard is licensed to practice law in three states-New York, D.C., Connecticut as well as being a member of the Supreme Court bar and several federal courts including the 2nd and 9th Circuits as well as the Court of Veteran's affairs.
Ph.D., Texas Tech University
M.P.H., University of Connecticut
J.D., Yale Law School
Matriculated at Honors School of Jurisprudence, Oxford University
B.A., Wellesley College
Jennifer S. Bard, Nutshell: Human Subject Research (Under Contractto West Publishing). 
Jennifer S.Bard, The President's Remedy-What the Hydroxychloroquine Story Teaches Us About the Need to Limit Off-label Prescribing Powers, 71 Cath. U. L. Rev. 427 (2022) 
Jennifer S.Bard, How PublicHealth Informed Law Making Would Addressthe Rising Synthetic Opioid Death Toll, 657 Brooklyn Law Journal 87 (2022). 
Jennifer S.Bard, Lifting the Barriers Excluding People Living with Disabilitiesfrom the Benefits of Inclusion in Research Studies, 6 University of Pennsylvania Journal of Law & Public Affairs 489 (2021). 
Jennifer S.Bard, Developing a Legal Framework for Ethical Review of Emotion A.I. Technology, Boston University School of Law Journal of Science & Technology Law (2021). 
Jennifer S. Bard, How the 21st Century Cures Act Can Mitigate the Ever Growing Problem of Mass Incarceration, 44 American Journal of Law & Medicine 387-342 (2018) (Symposium Issue).