Christopher Miller, Sr. spent 17 years in prison for a crime he did not commit.
On the night of Saturday, April 28, 2001, a 25-year-old woman was attacked and raped in Cleveland Heights by two men. The men left with the woman's belongings, including her phone.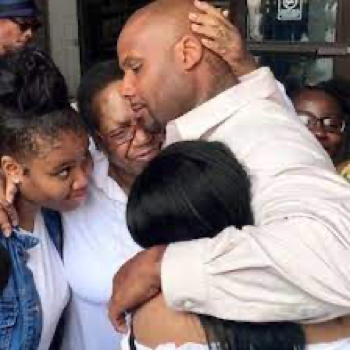 Chris had purchased the phone for $5 from a "drug fiend" who needed money to buy drugs. Chris admitted that he suspected the phone was stolen but denied any involvement in the attack. But he was arrested on April 30, 2001 and charged with rape, kidnapping, aggravated robbery, aggravated burglary, intimidation, and felonious assault. 
No physical evidence linked Chris to the crime. DNA tests were performed and showed it was not Chris's DNA. Police searched Chris's home, but found nothing linking him to the crime. Chris was excluded as the source of a pubic hair recovered from the rape kit. Chris's clothing was examined for the victim's DNA, but none was found. 
Prior to trial, the Cuyahoga County Prosecutor's Office offered Miller a deal—plead guilty to lesser charges and name his accomplice and the prosecution would support a sentence of seven years in prison. Chris rejected the offer and asked to take a polygraph examination. That request was denied.
At trial in January 2002, the victim identified Chris as one of her attackers even though her head was covered during the attack. The prosecution argued that the DNA test results excluding Miller meant that the victim was mistaken about the number of men who raped here. After three days of deliberation, the jury convicted Chris of all charges. He was sentenced to 40 years in prison.
In August 2004, the DNA profile from the rape kit was matched in the FBI DNA database to Richard Stadmire, who had been convicted in March 2002 of committing a similar crime in May 2001 about five miles away from the crime for which Chris was convicted. On June 12, 2006, Mr. Stadmire was convicted and sentenced to 43 years in prison, and Charles Boyd, a man who cooperated with authorities to incriminate Mr. Stadmire, pled guilty to aggravated robbery and was sentenced to five years in prison.
In 2007, Chris sought to obtain a new trial on the ground that Mr. Stadmire's DNA was identified in the rape kit, but the motion was denied. Ten years later, Ohio Innocence Project moved for more DNA testing of the evidence in Chris's case, arguing that DNA testing had become more sensitive since the original testing in 2001. The prosecution did not oppose the request. In August 2017, the DNA tests excluded Chris and identified the DNA profiles of Mr. Stadmire and Mr. Boyd.
Meanwhile, OIP obtained reports from the Cleveland Heights police department that had not been disclosed to Chris's trial defense attorney. The reports showed that the victim's description to police after the attack was very different than the testimony she offered at trial to identify Chris. 
In June 2018, the Cuyahoga County Prosecutor's Office Conviction Integrity Unit and OIP filed joint motions to vacate Chris's convictions. On June 21, 2018, his convictions were vacated, the charges were dismissed, and he was released. Three years later, Cuyahoga County Common Pleas Judge Kelly Ann Gallagher declared Chris a wrongfully convicted person.
In his freedom, Chris lives in Cleveland, close to his family. Shortly after he came home, he welcomed his first grandchild, a beautiful little girl, Zola. He has since welcomed two more grandchildren and spends time with his mother and adult children.
To learn more about Chris's case, please visit the National Registry of Exonerations.
To support OIP's work to free men and women like the ones you just learned about from this site, please use the donate button below.