Derrick Wheatt, Laurese Glover, Eugene Johnson
Derrick Wheatt, Laurese Glover and Eugene Johnson were juveniles when they were interrogated by East Cleveland police about a 1995 murder that occurred in their neighborhood. Knowing that they were innocent, they cooperated with police, only to be charged with the murder.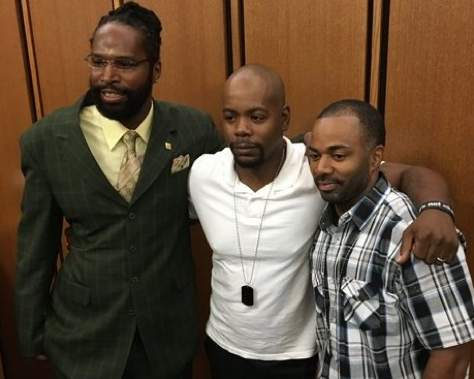 The case against them relied extensively on a shaky identification by a fourteen-year-old girl. Despite the weakness of the case, all three youths were transferred to common pleas court to be tried as adults. The weakness of the government's case was evidenced by the Cuyahoga County Prosecuting Attorney's offer to dismiss charges against Laurese and Derrick if they would testify against Eugene. Knowing that Eugene was innocent, they refused and proceeded to trial. The jury returned guilty verdicts. Laurese was sentenced to 15 years to life imprisonment. Derrick and Eugene were sentenced to 18 years to life imprisonment.  
OIP ultimately was able to free all three men after they had served 20 years in prison for a murder they did not commit. Two events precipitated the triple exoneration: the key eyewitness recanted her testimony, and the court learned that information from police reports that cast doubt on the defendants' guilt had not been disclosed to the trial team years earlier. Those reports indicated not only that Derrick, Eugene and Laurese were not guilty of the murder, but provided police with an alternative suspect.
For a great explanation of this case, you can watch this video and visit the National Registry of Exonerations.
Derrick is married to a wonderful woman, Starr, and is the proud father of a precocious little boy, Derrick, Jr. They live in Northeast Ohio.
Eugene and his partner, Sabrina, live in Arizona.
Laurese is surrounded by his large loving family in Northeast Ohio, and is a prolific speaker, educating others about wrongful conviction and the impact that it has on people even after exoneration. He is also the owner of a restaurant, Truth Seafood Seven, in Cleveland. 
To support OIP's work to free men and women like the ones you just learned about from this site, please use the donate button below.